SWSAS Striving for Excellence
Written on the 9 February 2018 by SWSAS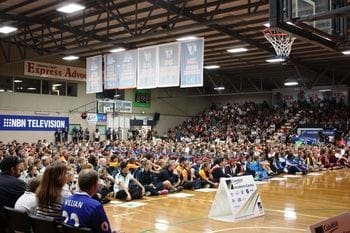 The South West Sydney Academy of Sport (SWSAS) is offering a range of exciting new and revamped programs, as part of its 2017/2018 intake year.

The Academy's administration centre has been a hive of activity, with meeting undertaken with the State's leading sports CEO's and administrators, to discuss the wide range of requirements needed to develop quality sports pathway programs for our region, talent identified athletes.
Whilst this is taking place, hundreds of registered athletes representing eleven different sports, are testing their potential to become a SWSAS athlete.
Sports Program Manager James Watson said, "the selection process and opportunity to be selected is tougher in some main-stream sports than others, but this does not mean the quality of athlete is any different. It is personally motivating to see athletes engage in the excitement of selection and eager to test themselves against the well-credentialed selection processes implemented by SWSAS."
Watson said, "Some sports like Softball are already up and running. After three nights of intensive trials involving selectors from the Academy's program staff, representatives from each of our local softball associations and the guidance of Softball NSW, a highly talented squad has been announced".
SWSAS Softball has a long history of being extremely strong. With many new faces taking their places on the diamond this year the pressure will be on, to uphold the Academy's long tradition of dominance.
Head coach Peter Doherty is a very happy man and is quoted saying, "the program is proven, our methods are solid, but every group presents new challenges, nothing is ever the same but you watch listen and learn all the time. After three or four sessions, the 'tweaks' will begin and the fitness, game skills execution will begin to develop. We provide an environment for individual skill development and the rest will take care of itself."
Next Thursday evening nearly seventy Netball athletes will take the court giving it their all, in what will be a massive night of Netball, as the Academy program is the recognised pathway for players aspiring to make the Samsung Premier League.
Talent, potential and coach-ability will be measured by officials who have undergone training in this area and know exactly what they are looking for. There is no doubt that gaining selection in this squad is a great achievement.
That being said the trialling girls are only fourteen to sixteen years old. A non-selection is always a disappointment but to the 'gritty' athlete, this is a setback to be eventually overcome. The quote, 'there is always next year' is very true for the majority, of these young athletes.
The Wests Future Stars Academy athlete program are currently taking nominations, and all other SWSAS programs now up and running.

The SWSAS Facebook page is a very popular destination at the moment, with some of program nomination pages being viewed up to five thousand times.
The Academy's 21st intake is well underway and as always, the message to all athletes is the same, bring your best game, play fair and be respectful to all.
For more information regarding the Academy call (02) 4627 7622, visit www.swsas.org.au OR visit South West Sydney Academy of Sport on Facebook.