SWSAS takes on the Big Boys In the Bulldogs and Eels
Written on the 20 March 2017 by SWSAS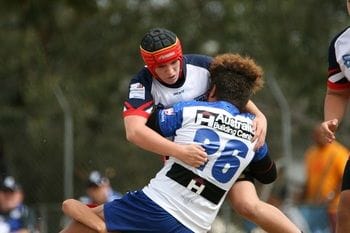 It was not just the weather hotting up over recent weeks; local Rugby League interest has also been on the increase by the size of the crowds' at recent SWSAS vs the big Sydney clubs junior development sides.
After training for the past two months, game one of the SWSAS development program could not come quick enough for its players and parents alike.
The Academy's first outing pitted it's under 15 and 17 squads against the might of the Canterbury Bankstown Bulldogs, at Hillier Oval, Liverpool.
It was a tough and warm day all round for both home and away players, and provided the opportunity to allow all players good game time.
With this in mind the score fluctuated as much as the on-field personnel, with both organisations pleased with the day's outcome.
Last Saturday saw the SWSAS under 14's join its 15's and 17's at the same venue, this time against the Parramatta Eels. The 14's got caught 'on the hop' by the Eel's early in the game, but came home strong winning the second half.
This is a very exciting age group with big things expected of its players.
The 15's and 17's had a tough day-out against some 'very big' Parra boys, but acquitted themselves well, with a number of complementary comments coming from the Eels camp.
Academy executive director Gerry Knights said the South West Sydney Academy of Sport is now, the officially recognised development pathway of the Wests Tigers and Wests Magpies for under 14, 15 and 17 talent identified junior rugby league players.
And that the Academy has been working closely with the Wests Tigers for many years to deliver a quality Rugby League progression program, for the Wests Magpies representative squads competing in the Harold Matthews Cup and S.G. Ball.
And he is pleased that this has been rewarded with the Wests Tigers and West Magpies, now entrusting the Academy with the greater responsibility of overseeing all junior development programs within the Western Suburbs region.
Knights said, "The Wests Tigers are fantastic and we are fortunate to have a NRL club so dedicated to the development of junior Rugby League across all age groups".
The Wests Tigers club also continues to demonstrate its commitment to junior coaching development, with its most recent coaching session being held at the Macquarie Fields TAFE for SWSAS and Group 6 coaches.
The next outing for SWSAS will be a 3-way development day with Group 6 and the returning Parramatta Eels.
For more information visit www.swsas.org.au or telephone 4627 7622.