SWSAS Triathletes are ahead of the pack
Written on the 19 May 2015 by SWSAS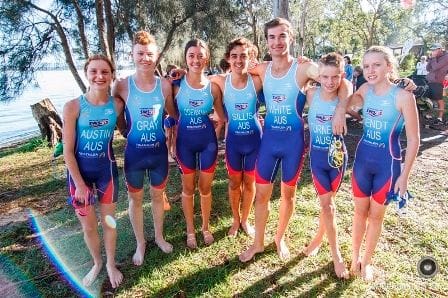 THE Academy triathletes have showed their true team spirit as the Academy Triathlon program comes to a close for its inaugural season.
It can be said that despite Triathlon being an individual sport, the Academy squad have become a highly bonded team, embracing the ups and downs the year's events have given them. Squad captain Daniel White has expressed his delight in finding other athletes from the Sydney's south west who understand the commitment and dedication it takes to be a professional triathlete.
Through the hard work of the squad and its coaching and support staff, the Academy triathletes have seen some exceptional results this year with majority of the athletes proving real standouts in their individual age groups. Considering this is the first year of the program, we can only look forward to what coming years will bring says Academy Executive Director Gerry Knights.
The recent ClubsNSW Academy Games saw triathlete Jackson Gray take out the Aquathlon and Triathlon for his age group and in doing so defeating some of the best Triathletes from across NSW.
Young Cody Turner placed first at Batemans Bay, second in Wollongong and third at Forster. Ella Wooldridge placed seventh at the NSW All Schools Triathlon and placed third in the Government schools category.
Some of this year's competitions venues included Batemans Bay, Wollongong, Forster, Penrith and recently the Central Coast for the 2015 Academy Games. All athletes have put in a fantastic effort this year and it will be exciting to see how they improve in the future.