Triathlon Coach receives Australian recognition
Written on the 27 June 2016 by SWSAS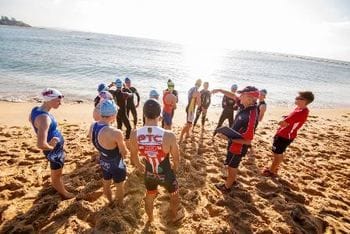 HEAD Coach of the South West Sydney Academy of Sport Triathlon Program, Guy Creber was recently nominated by Triathlon Australia for its prestigious 2015 Australian Age Group 'Triathlon Coach of the Year Award'. The winner was announced at the recent Triathlon Australia 'Celebration of Champions' Annual Awards Dinner on the Gold Coast.
Creber was nominated for this highly prestigious award along with 5 other high calibre candidates from across Australia. Although his credentials were of an outstanding quality, the award was taken home by joint winners Corey Bacon (ACT) and Ross Pedlow (WA).
Creber said that simply being nominated for the award was a huge honour in its self and he also spoke in praising terms about the winners.
Creber has been the Academy's head coach for the past 2 years and has been involved as a Triathlon coach in the Macarthur Region for over 5 years. He was an instrumental part in establishing and also running the Academy's Triathlon Program which has gone from strength to strength, under his guidance.
His success as a coach can partly be credited to his own experiences as a triathlete with over 10 years of competition experience under his belt, including representing Australia in 2012 and competing at World Championship events in New Zealand and England.
The Macarthur region has produced some exceptional talent in recent years including current stars like Natalie Van Coevorden and also Erin Densham, who was recently selected to represent Australia at the 2016 Rio Olympic Games.
With Creber's focus on the development of young athletes, we will defiantly see some more future Olympians from the Macarthur region in the years to come.
The Academy's Triathlon Program recently wrapped up for this season, with nominations opening in August for individuals interested in trialling for its 2016/2017 Triathlon Program.