Tribute to our future gold medal winners
Written on the 30 June 2017 by SWSAS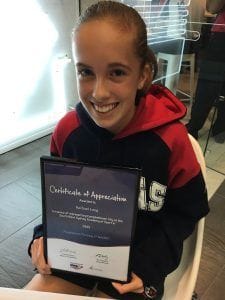 SOUTH WEST VOICE Eric Kontos on Friday, 28 April, 2017 in News

Tribute: BMX champion Rachael Long last night after receiving her certificate
A wonderful tribute to our finest young athletes was held recently in the Campbelltown Arts Centre.
This is an annual event for Campbelltown residents who attend the South West Sydney Academy of Sport (SWSAS).
Separate functions are held for athletes who live in the Liverpool, Wollondilly or Camden local government areas.
Mayor of Campbelltown, Cr George Brticevic, started proceedings when he praised all of the athletes for their hard work, commitment and achievements so far.
"We look forward to seeing some of you in future Commonwealth Games and Olympic Games,'' the mayor said.
More than 70 athletes representing sports as diverse as BMX and triathlon were last night recognised for their achievements so far.
They included 14 year old BMX champion Rachael Long, who attends Broughton Anglican College.
Another was rising clay target shooting talent Lachlan McLean, who heads to Melbourne in two weeks' time for the national titles.
Basketball, rugby league, hockey, kart racing, netball, softball, tenpin bowling and triathlon were some of the other sports represented last night.
SWSAS board chairman Peter Campbell told the gathering the academy now covered 17 sports and a total of over 300 athletes.
He said the academy was helping local athletes achieve success at the state and national level.
Young softballer Lachlan Smith, in his last year at the academy, speaking on behalf of the athletes, praised the work of the academy and its coaching staff.
But he was also full of praise for both Campbelltown Council and local businesses which supported the academy.
"It's really good to see local business get behind young athletes,'' he said.
But he didn't forget the vital role parents play in the growth of athletes.
"Without our parents giving up their time to run us around to training and everything else they do we would not succeed as much as we do,'' he said.
SWSAS chief executive Gerry Knights attended the function, as did a number of councillors from Campbelltown, Liverpool and Camden.