Ultra-Trail athlete joins the academy team
Written on the 23 November 2016 by SWSAS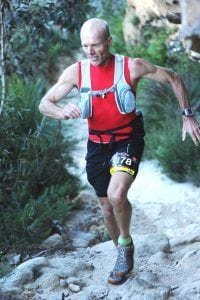 Ultra-Trail is a more extreme form of marathon running.
Athletes who are into Ultra-Trail events, leave the road and head into the bush and often have to tackle a few mountains during the run.
Fifty kilometres or more on mountain trails is their idea of fun.
Now one of them, James Watson, has joined the South West Sydney Academy of Sport (SWSAS).
Executive director Gerry Knights said the academy was very pleased to announce James Watson as the newest addition to its sports program management team.
"James Watson is a person oozing with enthusiasm, and through his personal tough training schedule, really gets what is needed for an athlete to compete at the top level,'' Mr Knights said.
"His enthusiasm and dedication to task is infectious.''
Mr Watson says his focus will be to support the development of local talent identified athletes; by working closely with the Academy's own coaching staff and its sports educators, as well as relevant state sporting organisations in the delivery of sporting programs.
The academy's latest recruit is himself a dedicated athlete, competing at an elite level as a master's athlete within Trail Ultra, which is a growing sport.
Mr Watson said he was extremely excited with his new academy role, describing it as his "dream job''.
"To be directly involved in the development of young athletes is a big thrill,'' he said.
"I am really looking forward to this new challenge. Dedication, discipline and, importantly, enjoyment are my mantras. My sporting philosophy is, be inspired by your success, motivated by your disappointments and turn up today."