Vella leads the way as academy golfers make an impression at Bathurst
Written on the 3 April 2018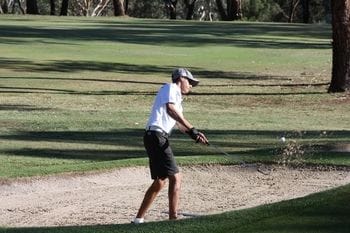 Brandon Vella was among three squad members of the South West Sydney Academy of Sport (SWSAS) golf program who either equalled or bettered their individual handicap at this year's Bathurst Junior Masters.
SWSAS was represented by eight young, talented golfers, all of whom have experienced big tournaments before.
Bathurst Junior Masters, hosted by Peter O'Malley, catered a capacity field of some very good up and coming golfers.
It was no surprise that the anticipation and excitement of strong competition lifted the SWSAS squad's expectations and performances to the next level.
But it was 17-year-old Brandon Vella, a fourth year academy scholarship holder, who really stood out.
The young golfer finished his Saturday round in fourth spot after a well played one over par 72.
Vella had four birdies in this round, including some absolutely stunning shots.
His short game was his strength and he played the short holes better than anyone else on course, averaging 2.5 shots per hole for the par 3s.
Vella played in the final group on Sunday and thrived in the high pressure environment, holding his game together for more than five hours, to finish the scratch event in an excellent 7th position overall.
He bettered his five handicap by a remarkable five shots, giving him a big win in the nett competition.
Academy sports program manager James Watson said of Vella's exhibition at Bathurst Junior Masters:
"Brandon is a very quiet young man with a lot of confidence in his own ability. His positive attitude is infectious, his work ethic is outstanding, and he has a very strong support network behind him.
"The SWSAS golf program has quickly settled in at the Campbelltown Golf Club, and its head professional Scott Martyn is very dedicated to the development of junior golf talent.
"He has a strong knowledge of what is required, and he shares this in a manner that the players understand,'' Watson said.
This program's golfers will now consolidate the competition lessons learned in Bathurst, in preparation for the upcoming ClubsNSW Your Local Club Academy Games Tournament later this month.
This tournament will include both individual and team events played over two days, on two of the Hunter region's finest golf courses.
For more information regarding Academy sports programs, or sponsorship, contact Mr Gerry Knights at 4627 7622 or email gerry.knights@swsas.org.au