Volleyball Serves up Academy Games Double
Written on the 28 April 2023 by SWSAS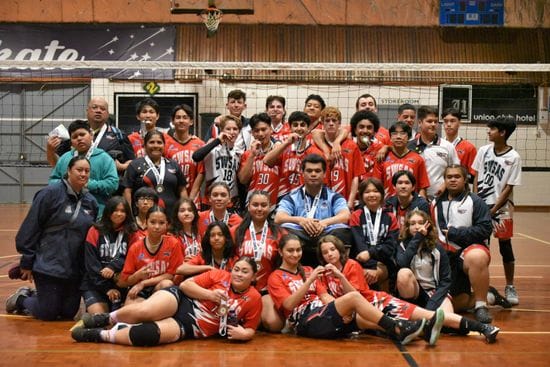 Double Gold Vibes as both the Boys and Girls Volleyball squads claimed Gold at the ClubsNSW Regional Academy Games.
The South West Sydney Academy of Sport (SVSR Mini Crane Hire) Volleyball Squad have returned from the ClubsNSW Regional Academy Games held in Wagga Wagga over the weekend of April 21-23 with not one, but two Gold medals, after winning both the boys and girls competition.
In what has been dubbed the "Spectator Games" due to hosts Southern Sports Academy's ability to host the event in a sport precinct that encouraged spectator participation and support. Highly demonstrated at the Indoor Volleyball tournament, which is fast becoming compared to its beach variety from the Olympics.
Chants of "South West Sydney" echoed throughout the venue all weekend, as the Academy's teams continued to show a high level of passion and skill throughout the tournament.
By Sunday afternoon, fellow Academies who were not playing in the final found themselves supporting South West Sydney, as the boys claimed back to back Academy Games titles by defeating the North Coast Academy. This was then followed moments later by the girls defeating neighbouring West Sydney Academy, and claiming redemption for their runners-up status the previous year.
Both matches were won in straight sets, and both teams going through undefeated capping off a remarkable tournament for the Academy Volleyball program. Not to be out done, the Academy fielded two development teams, with the boys and girls development sides finishing 5th out of the eight competing Academies.
The winning weekend continued South West Sydney's success at the Regional Academies' level, with the boys volleyball program now winning all three tournaments contested since the sport commenced in late 2021, and confirmed the Academy sides as favourites ahead of the VolleyballNSW Academy Challenge, to be held in Port Macquarie in July.
---END---
For more news and Photos, head to our Academy Facebook page: