Wests Future Star Dives Towards Home Olympics
Written on the 23 March 2021 by SWSAS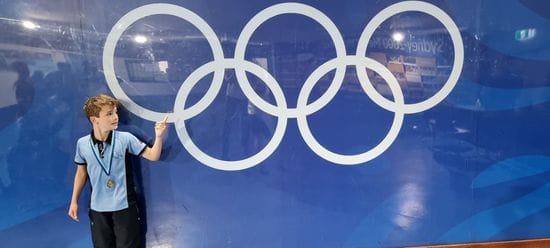 Image: SWSAS Wests Future Stars Diver Rhys McEvoy firmly has his eyes set on the Olympic Games which he hopes will be in Brisbane in 2032.
The South West Sydney Academy of Sport has welcomed the recent news that the International Olympic Committee will start a targeted dialogue with the 2032 Brisbane Bid Olympic Committee, and the Australian Olympic Committee, in relation to Australia hosting the Olympic Games, for a third time.
One athlete hoping that Brisbane is awarded the 2032 Olympic Games, is SWSAS Wests Future Star program - Diver, Rhys McEvoy.
At just 10 years of age, McEvoy is one of the youngest members of the Academy and is also a member of the NSW Institute of Sport (NSWIS) Diving squad.
Earlier this month McEvoy was successful in qualifying for the Elite Junior National Championships, in both the 5m and 3m Springboard disciplines, and he also hopes to back up and qualify in the 1m Springboard.
His performances have been exceptional, when considering McEvoy only started diving in 2018, after making the transition from Gymnastics, where Rhys was a member of the NSW High Performance Centre.
Taking to the sport of diving like a duck to water, he was offered a place in the NSWIS National Talent Program in 2019, training under Olympic coaches Kevin Chavez and 2008 Olympic Silver Medallist Melissa Wu.
"I look up to Melissa (Wu), not just because she is my coach, but because she is one of the world's best female divers. She is very encouraging and always positive, which makes training fun even though it is hard work", said McEvoy.
Having won the 2019 NSW PSSA Springboard State Championship, and after limited competition events in 2020 due to COVID, Rhys has his eyes firmly set on the 2021 State PSSA Championships later this month, followed by the Elite Junior Nationals in July.
Fast forward to 2032, where McEvoy will be turning 21, and hopefully looking to take home an Olympic Gold on home soil, with the help of organisations like the Academy, NSWIS and similar organisations along the way.
"I would like to go to the Olympics in Brisbane in 2032, because it is close to my family and friends so they will be able to come and watch. There will be lots of Australians cheering for me. I think by 2032 I will at least have mastered the worlds hardest dive off the 10m and also the 3m", said McEvoy, referencing the front-four and a half pike position, which McEvoy believes, if done well, should secure the Gold medal.
"After I go to the Olympics I want to be a Red Bull Cliff Diver, and then maybe I will become a Chef" he said.
---END---