Wests legend inducts Academy Juniors
Written on the 5 February 2015 by SWSAS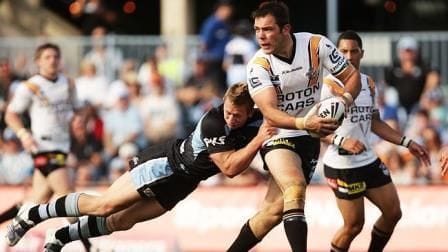 THE month of February saw a room full of future Rugby League stars hearing about the world of elite Rugby League from a local legend of the game. Former Wests Tigers forward John Skandalis was one of the guest lecturers who assisted in educating and inducting a new recruit of Rugby League hopefuls into the South West Sydney Academy of Sport Harold Matthews Cup and Development Rugby League Programs.
Nearly 150 athletes, staff members and parents filled the lecture auditorium at the University of Western Sydney, Campbelltown Campus, in the second induction intake held by the Academy. Both inductions saw the auditorium at capacity for what were nights filled with high athlete excitement and anticipation.
The format of these evenings allowed for great interaction between athletes and presenters and also allowed for parent inclusion and engagement.
One of the main educational topics of the second intake was presented by NRL Career Coach Debbie Brewin. Debbie highlighted the dangers surrounding drugs in sport and the importance of being informed on the topic.
John Skandalis who is a local from Minto spoke to the athletes on the importance of being responsible for your actions and highlighted some social issues that may arise from being a professional footballer. John who had a long standing career with the Wests Tigers was the last original Western Suburbs player remaining at the Wests Tigers club after the merger in 2000. John now works with the Wests Tigers to help educate and inform young athletes about certain dangers surrounding being a professional footballer.
The Wests Tigers have been great supporters of the Academy's Rugby League programs by committing to developing young athletes on and off the field. Recruitment and Development Manager Warren McDonnell played a big part in the selection of the development squads and is passionate about giving young athletes the opportunity to succeed in Rugby League. Great support is also being provided by the West Magpies senior club.
Both the Development and Harold Matthews Cup programs are well underway and will see all athletes put their training to the test in upcoming matches. The 14th of February saw the Harold Matthews Cup squad take on the Manly Warringah Sea Eagles at Brookvale Oval, and after scaring the pants off Manly, the Academy side lost a close encounter in the final minutes after leading 18-14. With 15 minutes to go Manly scored in the corner when SWSAS had 12 players on the field due to an injury. The lead gave Manly all the momentum and they scored again with 4 minutes to go and came away winners 30-18, in a great SWSAS team effort. On the same day the 14s and 15s Development squads took on Cronulla Sharks at Kirkham Oval, coming away winners 20-0 in the 14s division and 8-4 in the 15s division.