Wests Supports Academy Future Stars
Written on the 26 February 2018 by SWSAS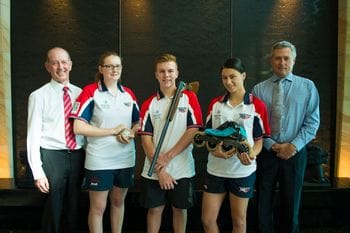 The South West Sydney Academy of Sport (SWSAS) individual athlete Lone Star program, has been renamed to recognise a new and exciting sponsorship partnership with Wests Campbelltown The Home of Sport.

The new program will be called the "Wests Future Stars" athlete and Para-athlete program and financially support the skill and sports education development of local athletes.

Gerry Knights the Academy Executive Director, proudly announced that this is just one more example of how the Club Industry continues to support local athletes and congratulates Wests on its ongoing support of the Academy and the many other organisations the Club continues to support.

Knights said, this is a huge plus for our talented young athletes' as the Academy is always looking for new and exciting way's to support our Region's young, up and coming stars.

An animated Wests CEO Tony Mathew said, this type of support benefits everybody and our Region should be very proud of the achievements of these fine, very hardworking young athletes.
Just look at the quality of the three young athletes with us today, Jaide Weiling is an International Inline Speed Skater, Lachlan McLean an International Clay Target shooter and Samira Cox an Australian Age record holder in shotput and an Australian Champion in discus.

The program is open to athletes and Para-athletes aged 14 to 20 years, who reside, represent, or go to school in the Academy Region, namely Campbelltown, Camden, Liverpool or Wollondilly.
The program also acts as a development pathway for local coaches, support staff members and volunteers.

If you are an individual athlete that would like to apply to become a part of the South West Sydney Academy of Sport, contact the Academy on 02 4627 7622 or gerry.knights@swsas.org.au