Young Softballer set to hit the big time
Written on the 21 January 2016 by SWSAS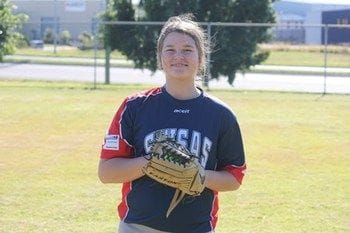 The future is looking bright for young Softball pitcher Jorja Barrett who has been selected as part of the 2015/2016 South West Sydney Academy of Sport Softball squad.
At just 15 years of age Jorja has over 8 years playing experience after starting her softball pursuit at the age of 7. Jorja begun playing Softball thanks to the encouragement from her peers, little did she know she would soon fall in love with the game.
Jorja quickly made her way through the representative pathways, playing for Macarthur's under 15s and under 19s representative sides and then gained selection at a regional level with the Academy at the age of 14.
The Academy program targets athletes aged 15-17 which has given Jorja the opportunity to be surrounded by older more experienced athletes who can assist in improving her performance.
The young pitcher is in her second year of the SWSAS program and has expressed that her favourite aspect of the game is the fact that it is more skill focused rather than fitness focused. "The Academy program is extremely beneficial as it brought a number of key athletes from each association together to represent at a regional level" says Barrett.
This year Jorja also excelled at a school sport level, gaining selection in the NSW Combined Catholic Colleges (CCC) Softball squad. Jorja was also the first student from St Clair Catholic School to represent NSW in the Primary School Sports Association (PSSA) Softball squad, in 2012.
Jorja also competed at the the NSW Metropolitan competition held last January, in Adelaide.
At just 15, Jorja has the whole world in front of her with her sights set on heading abroad in the pursuit of a Softball scholarship with an American College, which will financially support her education and provide a greater exposure for her as an athlete.