Academy Netball Scores at Online Challenges
Written on the 13 September 2021 by SWSAS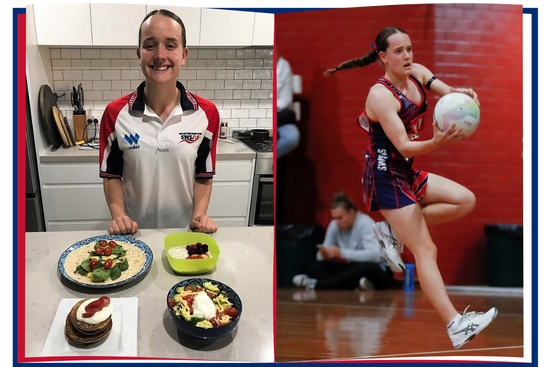 Image: Abbey Finlay is just at home on the court as on the Zoom education sessions.
Sport and September usually go hand in hand, with the first spring month generally coinciding with the peak final's series for a number of community sporting codes. September is also the month that the South West Sydney Academy of Sport 'Walker Corporation' Netball squad heads to the country to compete in the Regional Academy Challenge. An event that Academy athlete Abbey Finlay was looking forward too, until the lockdown.

Yet, it is throughout this lockdown that Abbey, along with twenty-three fellow squad mates have not abandoned their team training, but instead adopted weekly online training and support sessions. Whilst conditioned for a training session that includes sprinting, quick change of direction, and passing drills; Finlay has swapped the netball for a laptop, and the wide-open training space, for a cleared-out garage. All in an effort to stay focused on continuing to develop herself as an athlete.
"The Academy has helped me during lockdown, by organising online 'Zoom sports education meetings' for nutrition, and a mental health 'check in with the chap(lain)' which have been really beneficial." said Finlay. Who mentioned that a key highlight has been an online cooking workshop, that the Academy hosted recently for its athletes.
Sydney West Sports Medicine and Parramatta Eels Dietitian, Kelsey Hutton led the Academy athletes through an online, yet interactive cooking session, where athletes prepared two breakfast and lunch options, whilst learning about the nutrition requirements and options to help boost their athletic performance.
"It was great to get some new ideas and learn more about the importance of nutrition as an athlete," she said. Adding that, she learnt how to make some amazing breakfast and lunch meals. Her favourite recipe from the workshop was the burrito bowl. "It was so quick and easy to make but so delicious. Mexican is also my favourite cuisine, so it worked out well."
Finlay, and her fellow netball athletes have also been taking part in an online 'Netfit' Academy Challenge, conducted by Netball NSW, with each Regional Academy program participating in a three-week online training program.
"On top of this our squad has also been doing weekly on-line meetings in small groups where we do strength and conditioning, well-being talks, and our coaches have been giving us challenges to keep us all connected during lockdown."
Finlay, like most teenage athletes, is looking forward to the opportunity to get back into training and will be nominating for the next Academy Netball program, once the current local lockdown period ends.
"The Academy has provided me with much more knowledge on not just the skills of playing netball, but the behind the scenes work like recovery and leadership. I am really looking forward to getting back to netball and catching up with friends when we can all get back into it," she added.
It has been Finlay's attitude to maximising every opportunity within the Academy program, that saw her awarded the Academy's Netball program Coaches Award for 2021, with the award presented during an online presentation, in late August.
Family has been a great help to Finlay, not only throughout her junior representative career, but also in helping to keep her sane during the pause.
"Mum and I have started a puzzle and have been playing board games, and I have been able to go running and bike riding around our local netball courts to help pass the time, she said.
Finlay, who encouraged fellow athletes no matter what their sport, to take the time and do some form of exercise. Work on those skills that you struggle with in your sport, but also don't be too hard on yourself. And stating that we are all going through a tough time and are doing the best we can.
With recent announcements by the NSW Government and its 'recovery roadmap', the Academy is hopeful that nominations for all of its 2022 sport programs, will be able to be released in early October, with trials anticipated to take place in late November this year.
To get involved and for more information on the South West Sydney Academy of Sport, visit the website www.swsas.org.au or phone the Academy on 02 4627 7622