Twirling to get out of Lockdown
Written on the 11 October 2021 by The District Reporter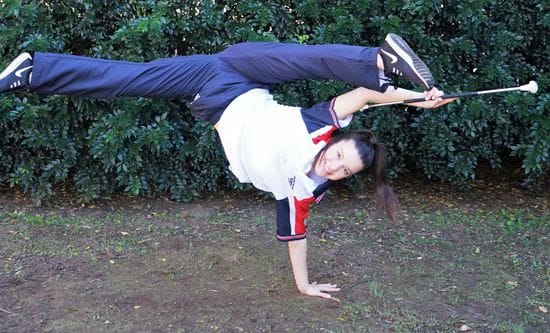 Standing at centre-court of a stadium, such as Netball Central, Qudos Bank Arena, or even Campbelltown Sports Stadium is a dream that many junior athletes have. Yet, to be holding a metre-long stick that you throw in the air, doing back flips, cartwheels or summersaults whilst trying to sight the stick in the lights, and catch it cleanly, is probably not the dream most athletes have. That is of course unless you name is Renae Edmunds.
About to enter into her third year as a member of the South West Sydney Academy of Sport, Wests Future Star program, Renae Edmunds competes in the sport of Baton Twirling. Whilst many minds may think of cheerleaders and half-time entertainment, Edmunds is quick to correct that thinking, providing a far different picture of an international sport, where she has represented as one of, if not Australia's leading junior baton twirlers in a sport that is, in fact, extremely physically demanding. Edmunds is also quick to remind us that Cheerleading is itself a growing sport in Australia and has been very strong at the Collegiate level in the USA for many years.
When interviewed, Edmunds said, "I was always interested in gymnastics. Baton twirling is very similar as it combines gymnastics and dance elements into a performance with a baton. It is very challenging and always keeps me on my toes. There is always a cooler skill or trick I could be doing which motivates me to keep practicing. And the sport has given me the opportunity to travel the world and meet many other great twirlers and people.
As one of Australia's elite athletes in the sport it has been hard for me to work towards big goals with just myself and my coach. I joined SWSAS because it helped me connect to other likeminded athletes and sports people. It has broadened my network to other athletes who both inspire and push me to keep working hard to achieve my sporting goals and has given me an amazing platform to use my voice to spread the word about the sport.
It is such a small sport in Australia there is not much funding available to its athletes. This is where SWSAS and its partners such as Wests Leagues Club have made a huge difference. Because of the program I have been able to attend a high-quality gym and receive a personal training program. As well I have been able to develop as an athlete within the Wests Future Star program, where I am able to be a part of a greater collective of other unique athletes.
And to be completely transparent, this lockdown has been challenging. Motivation has been one of my biggest challenges. Finding the drive to keep to my heavy training schedule has been tough. Both with studies and then pushing to do a hard fitness or twirling session after studying.
I have been changing up my workouts most days. I think I have done just about every workout you can find on YouTube! And doing a lot of Pilates, stretching, yoga, and the occasional high intensity (HIIT) workout. Taking our new puppy on walks most mornings has been a highlight of lockdown, as is a new found love for skipping!
The Academy coaching and support staff consistently check in on its athletes and provide us with many opportunities to grow as a holistic athlete. A highlight of lockdown has been the online Nutrition workshop with Sports Dietician Kelsey Hutton, where we prepared four nutritious pre/post sport meals. This was not only fun but very beneficial, and I was able to gain valuable professional advice on what I should be eating as an athlete.

A 'normal' training week would consist of a few different things. I try to get to the gym at least once a week to do a personal training session there. Through the Academy, I have a personal strength and conditioning program suitable to my sport, which I complete three times a week.
I then train with my coach in an indoor stadium, as well as at a park or at home by myself, to refine the skills I have worked on at training. I have also recently started teaching younger athletes to twirl which has been fun to be on the other side of things. In summer, I will do a lot of swimming for fitness and as a recovery activity. I also love going on walks or on a run with family or friends to keep active over the weekend.
I am looking forward to going to a Clubs NSW 'Your Local Club' Academy Games. The last two years we have been in lockdown, so I am super excited when I can go to my first one.
I am really keen to get back to the gym and start a new program and get back on track with all my fitness goals. The Academy is always providing new and interesting opportunities, so I am excited to see what the staff throw at us this year?"
Edmunds said, she was so grateful that she took up the opportunity to be a part of the Academy. And that it has given her so much confidence as an individual athlete to reach her goals. And that it has connected her to so many amazing new people and helped expose her to opportunities where she was able to build her profile as an athlete. And concluded by saying, anytime you need anything, Academy staff are always there to provide direction and guidance to its athletes.
---
Nominations for 2021/2022 South West Sydney Academy of Sport programs, including the Wests Future Star program, designed specifically for individual athletes, will remain open throughout October, with further details available on the Academy website, www.swsas.org.au or by contacting the office on 02 4627 7622.
Author:
The District Reporter