Academy 'Young Gun' leads Netball future stars
Written on the 3 August 2015 by SWSAS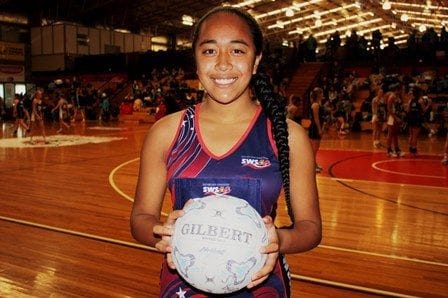 THE South West Sydney Academy of Sport Netball squad has returned from successfully competing in division 1 and division 2 competitions at the annual NIB Games, in Maitland. The tournament is part of the Hunter Festival of Sport, featuring a wide range of sporting competitions with Netball being one of the most hotly contested.
The young division 1 Academy side placed a very creditable third at the NIB Games, with its division 2 side going one better to place a close second, due to the 'for and against' ranking rule.
Academy Sports Program Manager, Sarah Shehata said, both teams put in a fantastic effort and should be extremely proud of their individual and team performances.
A highlight of the week for spectators and staff alike was watching 'young gun' Catherine Tevaga lead the division 1 side, at the ripe old age of 13. Catherine is one of the youngest members of the Academy squad, yet is oozing with leadership characteristics beyond her years.
Earlier this year Catherine captained her Liverpool side to the Grand Final of the NSW State Championships, where Liverpool proudly took home the silver medal.
Shehata stated, "For someone who has only been playing the game for 5 years, Catherine's potential is endless."
When asked, Catherine said she has really enjoyed her time as part of this year's Academy program and has improved greatly due to the 'on and off' court development benefits it provides.
Catherine said, "The sports education sessions provided, particularly the nutrition sessions were very beneficial to me and helped me adjust my eating patterns, and I am now aware that not all foods are bad, you just need a little bit of everything.
I have also really enjoyed the fact that the Netball program ranges from 14-16 years, which means I have the opportunity to play at the standard of the older girls instead of them dropping down to the standard of the younger girls."
The NIB Games competition officially concluded the tournament component of the 2014/2015 Academy Netball Program.
The Academy will soon be accepting nominations for athletes to trial for its 2015/2016 Netball Program. Nominations are expected to open in August.
Nominations are open to all Netball athletes who either live, play or go to school in the Camden, Wollondilly, Campbelltown or Liverpool local government areas.