Academy Athletes Bowling us over
Written on the 27 June 2016 by SWSAS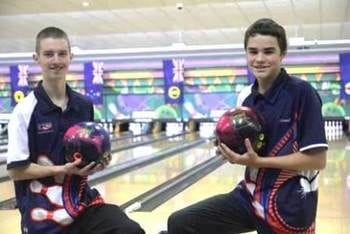 FOR most people Tenpin Bowling is a recreational activity undertaken whilst on holiday's or an activity to occasionally take the family to, but for a select few Tenpin Bowling is an intense sporting contest which requires a huge amount of dedication, focus and skill.
This year, the South West Sydney Academy of Sport welcomed back Tenpin Bowling as returning sports program, whereby 11 locally based talented young athletes have made the commitment to improving their game.
The program commenced training in late September under the direction of Head Coach Daniel Webb, a former Academy athlete himself and Eric Jang who is recognised as Australia's first national Tenpin Bowling champion.
The squad recently competed at the NSW Team Trial where 3 athletes Brandon Wilshaw, Emma Stephens and Nathan Hayward were selected to represent NSW at the Australian Youth Championships, to be held at the Campbelltown City Bowl in January 2017. The Championship's will include teams from across Australia and also invitational teams from Asia.
The squad also recently participated in the Sydney Youth Cup, where over 120 of the sports best junior athletes from across Australia and New Zealand, competed for a $2,000 first prize and a trip to USA for the winner.
Two Academy athletes performed exceptionally well with Brandon Wilshaw placing 3rd in the men's division with an average of 210 and Nathan Hayward placing 5th with an average of 205.4.
Head Coach Daniel Webb was extremely impressed with how much each athlete has improved since starting the Academy Program and stated, "It is very pleasing to see how much all players have improved on their placing in the same tournament last year."
Webb continued by saying "SWSAS really had a strong presence at the Sydney Youth Cup. All athletes competed as individuals, yet competed so well as a team. The Academy squad has started to overtake some of NSW's best Tenpin Bowling Academies, which was highlighted to all when 3 of our Academy athletes made the 8 person NSW Youth Team".
The Academy is looking to promote Tenpin Bowling across NSW and use its 2015/2016 program as a model to promote it within other NSW Regional Academies of Sport.