Academy Basketballers against State's best
Written on the 19 April 2016 by SWSAS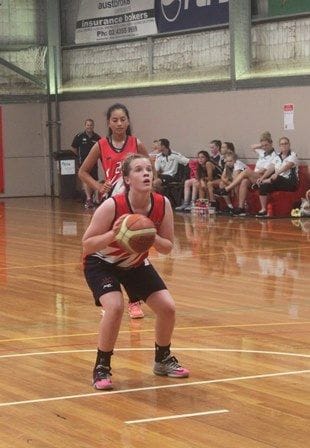 THE South West Sydney Academy of Sport has returned jubilant after a phenomenal weekend of competition, at the annual ClubsNSW Academy Games, on the Central Coast.
The weekend provided many remarkable Academy team results as well as outstanding individual achievements, in the sports of Basketball, Netball, Golf, Triathlon and Hockey.
After a stirring Opening Ceremony attended by over 1,000 athletes and a 'Scholastic Stadium' filled with dignitaries and cheering athletes, families and friends; the chant went up, 'Let the Games Begin'.
Competition opened with game one, of boys and girls Basketball played consecutively in adjoining courts and a full house. The crowd was eagerly waiting the rough and tumble of competitive Basketball.
And it was our very own local Academy's boys and girls teams fighting hard against two extremely good host Central Coast Academy teams. The boys got off to a flying start in the first quarter only to see their lead slowly dragged back and passed late in the third and to ultimately go down 'fighting to the end'.
The girls could not match it with their taller and more experienced counterparts, but showed glimpses of amazing team work and determination.
Both Academy teams demonstrated a better understanding of Academy Games competition on day two and often amazed their supporters with their speed and skill.
Unfortunately neither side had the height to hold off the other Academy's, with the Northern Inland Academy of Sport ultimately dominating both the boys and girls divisions.
Young basketballer John Dao was named in the Academy Games 'All Stars' 5's Basketball Team, which was a fantastic achievement considering it was the first year of the sport in the Academy and at the Academy Games.
Head Coach Mathew McKenna was very impressed with how both teams performed especially considering it was their first year competing at the ClubsNSW Academy Games. We are all extremely excited for the next couple of years as the Academy's basketball program will continue to get stronger and stronger, said McKenna.