Academy expansion seeks local support
Written on the 17 June 2015 by SWSAS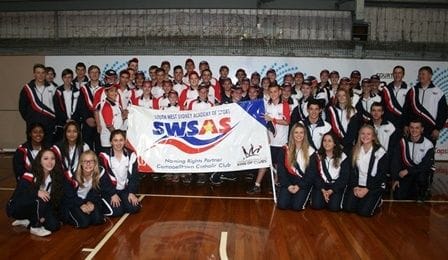 WITH the majority of the sports programs within the South West Sydney Academy of Sport coming to an end for 2014/2015, there is a call for new sponsors to assist in supporting the Academy's ongoing growth, before new scholarship nominations begin in September.
The Academy's expansion over recent years has been extraordinary, and this increase can be directly contributed to three areas, namely the remarkable support provided by local volunteers in the areas of coaching and support staff, the constant support of local and national businesses and the population growth of the south west Sydney region.
Academy executive director Gerry Knights affirmed that the positive growth in the region and the quality of the Academy's programs has directly influenced the un-precented growth of the Academy. Knights simply stated that this means additional funding is required to maintain this growth and to continue to equably support the regions talented athletes.
The Academy is currently looking at introducing Basketball, BMX and reintroduce Ten Pin Bowling but will require financial assistance to get these sports up and running.
"Major Academy sponsors like the Campbelltown Catholic Club and BHP Billiton - Illawarra Coal, plus the regions four local Councils provide recognition, financial support and creditability to our local NSW Regional Academy of Sport", said Knights'.
The Academy also has the support of a large number of local sponsors, including the District Reporter, and is very thankful for their long term contra and financial support.
The aim of the executive director in coming months is to ensure all current sponsors are happy to continue to support the Academy and also engage additional sponsors to assist in supporting the Academy's continued growth.
"The challenge now is to identify quality sponsors to join us in our exciting journey and support the 'Sporting Dreams' of our young local talented athletes", said Knights.
Local businesses interested in joining, or learning more about the Academy are requested to contact Gerry Knights on 0407 415 847, (w) 4627 7622 or gerry.knights@swsas.org.au.