Academy Inducts Class of 2014-2015
Written on the 16 December 2014 by SWSAS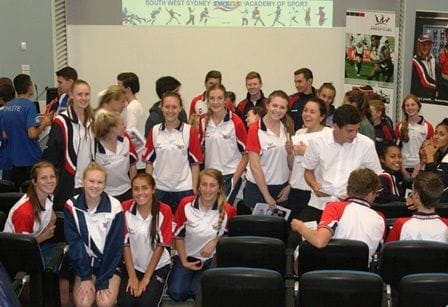 On the 3rd of December the University of Western Sydney Campbelltown Campus was awash with the white, red and blue, of the uniforms of new and returning South West Sydney Academy of Sport inductees.
Nearly 200 athletes, staff members and parents filled the University's lecture hall in the first of two inductions to be held by the Academy. The first induction saw the room at capacity for what was a night filled with high athlete excitement and anticipation.
Due to the large increase in Academy interest this year and the introduction of a new Athletics and Triathlon program, there was a need for 2 separate inductions this year in order to house all the athletes.
This allowed for great interaction with the athletes present on the night and also allowed for parent engagement and inclusion.
As part of the athletes induction the Academy executive director Gerry Knights warmly introduced the Academys chaplain Grant O'Donnell, Grant is a non denominational sports chaplain and member of the Sports Chaplaincy of Australia. His offer of assistance to all associated with the Academy was warmly welcomed judging by the sound of the accolades he received.
One of the main educational topics of the evening was presented by well-known sports nutritionist and massage therapist lecturer Carolyn Knights. Carolyn highlighted the discipline and strategies required to become the best athlete an athlete can possibly be. Strategies provided to athletes included ensuring athletes eat every 3 hours, making sure breakfast is being consumed and staying hydrated.
One of the positive highlights of the evening was the keenness for athletes to participate in the discussion aspects of the session and the rousing support provided by the audience, for their willingness to get up and challenge themselves. The final session of the evening was the Academys annual compulsory drugs in sport lecture undertaken by the Academys Executive Director who is a qualified NRL education presenter.
Knights made it very clear that it is each athletes responsibility to ensure that they do not take any illegal substances under the direction of someone else, or accidentally; and reminded those present that 4 Academy athletes were drug tested by ASADA at training, in January 2013.
Amongst a wide range of good advise Knights stressed the importance of ensuring that any legal supplements purchased by athletes be made in Australia and the risks of purchasing supplements over the internet, where their contents may intentionally, or unintentionally be contaminated.