Academy making the right moves in search of silver lining
Written on the 26 May 2020 by South West Voice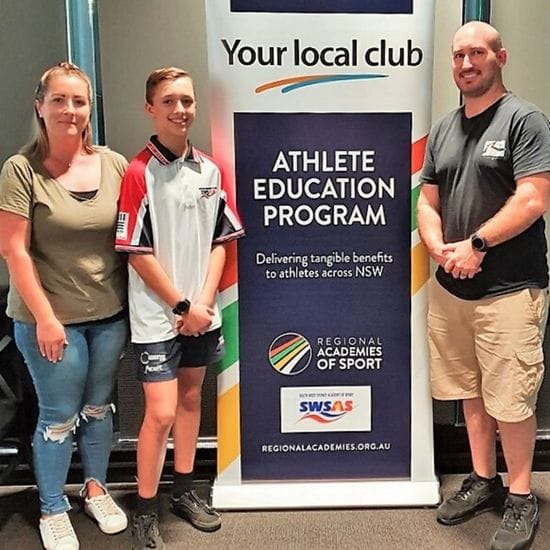 A family that is active together 'The Murphy's' of Spring Farm have fully embraced the inclusive nature of the SWSAS Moves program.

The absence of structure and organized events within the sporting world has been a significant challenge for participants and administrators across the board.
Covid-19 has led our whole society into new territory but, as is, often the case; opportunity is born in adversity.
South West Sydney Academy of Sport (SWSAS) is one sports organisation that has worked hard to find a silver lining during this challenging period.
And two brand new initiatives are proof that such an approach can pay dividends. In the first of these, SWSAS has partnered with Elite-Travel to introduce a Citizen of the Year award.
"This initiative will acknowledge several of our community's unsung heroes as nominees,'' says academy chief executive Gerry Knights.
"Within the SWSAS community there are some extraordinary people who dedicate themselves to providing opportunity and enjoyment to our youth, through the SWSAS, as well as the affiliated sporting clubs and associations.
"Much of this essential work happens in the background and can often go unnoticed by the broader community.
"Elite-Travel and SWSAS will be shining a bright light on these irreplaceable gems,'' Mr. Knights said.
The winner of the award will receive a luxury holiday, including airfares and accommodation.
In the second initiative, the academy has joined forces with Campbelltown Catholic Club to launch SWSAS Moves, a program that supports and encourages an active lifestyle.
Shelly (left) found herself on top of the leader board on week one thanks to some really consistent cycling. Kayden also a cyclist but of the daredevil variety is an emerging star within BMX and Chris, not to be outdone, logged almost 80 kilometers on his bike for the week.
This program is targeted at the SWSAS community including athletes, athlete families, alumni, and partners.
SWSAS will be the administrator and participant support for all who wish to get involved.
SWSAS Moves is a program that uses the global App Strava to record the exercise activities of all club, or organisation members.
"As this online community grows, it will be a network for people to set goals, support each other and have some especially important fun along the way,'' says Mr. Knights.
"On this platform SWSAS will celebrate the family that provides their pooch a regular walk as much as the emerging athlete who records a new personal best.
"The club leader board acknowledges time spent exercising as a priority and the sponsor provided prizes will be a great source of external motivation along the way.''
As well as these local initiatives, SWSAS has engaged in an increased level of collaboration with the state-wide network of sport academies.
The Regional Academy of Sport Network (RASi State-wide) has been communicating via video conference, on an almost daily basis.
"The core focus is to strengthen the elite athlete pathway through the delivery of education resources across the state,'' explains Mr. Knights.
To nominate a Citizen of the Year or for more information about SWSAS Moves please contact SWSAS through the website www.swsas.org.au or email Daniel Currinckx daniel@swsas.org.au