Academy Netballing Sisters Cause Havoc
Written on the 5 February 2014 by SWSAS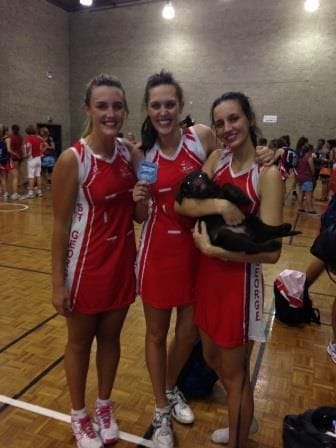 South West Sydney Academy of Sport graduate netballing sisters Nicole, Megan and Kara Styles caused havoc when they made up St George's defensive end, in Netball NSW's Twilight Competition.
The trio caused opposition players (and umpires!) confusion as the three sisters worked in tandem to prevent the ball from entering their defensive area. Having a 6 years age gap and all being defensive players, it seemed highly unlikely for all three girls to play at a high level in the same team.
Nicole said, that it was amazing to finally get all three Styles girls together on the court in the same side and that it was so much fun just running-off each other; and being the eldest I would like to think the girls looked up to me – but really we just had a lot of fun playing NSW Night Inter-District together.
Megan and Nicole played together in the defensive circle for years and years, so they can read each other like a book, but now Kara has joined them. Kara is a young player but she's so eager to learn and listen to advice.
Kara said it was so good because both of her sisters are really experienced and positive netballers on the court and they really lift you when you need to dig deep and they did not baby her at all.

After taking a season off from DOOLEYS State League action, Megan was enticed back to playing the NID competition with the prospect of uniting all three Styles on-court together for the first time. But she said she will have to think of ways to differentiate herself from her younger sibling and not confuse those in white with the whistle.

Megan said, that a couple of times this season the umpires have mixed Kara and her up, and she was being asked to stand aside for Kara's indiscretions. They were honest mistakes, but both Nicole and Kara found it very funny.
All three Styles sisters represented the South West Sydney Academy of Sport and went on to play for Netball NSW. Together they proudly have 12 years of Academy and NSW representation.

It was a big year for Kara who made her NSW representative debut with the Netball NSW Blues and also being named as the Academy's 'Campbelltown Catholic Club Athlete of the Year', but Kara says one of her highlights has to be running out with both older sisters.