Academy Remains Driven by Coach and Athlete Relationship
Written on the 12 September 2023 by SWSAS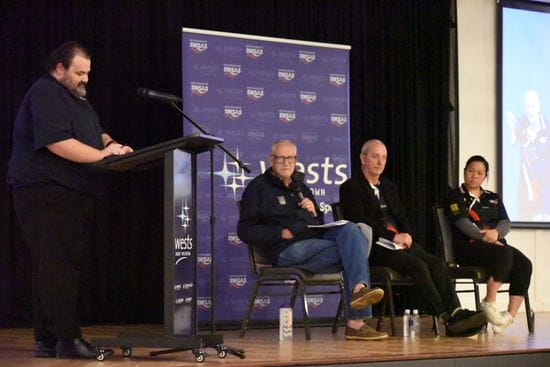 Having a strong culture and relationship system in place between coach, athlete and parent is essential for the success of any sport program, and it is the integrity of these relationships that the South West Sydney Academy of Sport has identified as a core strategy it wants to see its coach and support staff focus on within its 2023-2024 sport programs.
With that ethos in place, the Academy hosted a Coaching Symposium at Wests League Club, Campbelltown last night, September 11th 2023.
The evening featured a guest coaching panel, made up of esteemed members of the Academy's coaching staff, with Van Nguyen (Netball Head Coach), Jeff Cooper (Basketball Head Coach) and Guy Creber (Wests Future Stars Program Manager), leading an open discussion that focused on how coaches can effectively plan their program to maximise relationships and implement a strong culture striving for success.

The three panellists touched on a number of key topics surrounding identifying and building the relationships that young athletes desire to be a part of, and how to create a culture and environment where the athlete will strive for success, not just on, but also off the court.
"Developing strong relationships between the coach and athlete is important within our programs as we aim to assist athletes reach their full potential" said Academy Sport Operations Manager Stephen Craig, "This is achieved by a deeper understanding of not just the parties involved in the process, but by the process itself."
"The detail in the programming of not just the trial and selection process, the season ahead or each training session; but including the education, extracurricular sport development, and the individual feedback provided to athletes during and after the program itself, and having our own Academy coaches share their experiences in developing their programs with their peers provided a first-hand account of what the Academy is aiming for" added Craig.
With Craig mentioning that the role of the Academy as a step in the athletes sports high performance pathways, and a targeted level above representative club competition, that 90% of Academy sport programs focus being on individual skill development, training and education, leaving 10% or less on actual competition, the panel also provided insight into how to plan their sport program content and training sessions around the high performance pathways.
Key tips on how to incorporate this into their regular training program was the coaches need to be intentional about communicating their season and training plans with not just their fellow coaches, but with the athletes themselves.
"Through being intentional about building one on one relationships with the athletes in training sessions and incorporating individual athlete performance plans and goal setting exercises into their training sessions, our coaches can maximise the athletes potential, as the athletes end up taking ownership of their program, and ultimately control their own destiny" said Craig.
Following the panel discussion, coach and support staff undertook a coach development workshop, where those present were provided the opportunity to share their coaching experiences within their peer network, and in the process, provide significant feedback on the Academy sport program structures which will help shape the culture and future direction of the Academy sport programs.
Yet the coach and support staff of the Academy were not alone in providing this information, with an invited group of identified Athletes from across the 2022-2023 sport programs invited to attend their own Athlete Leadership workshop prior to the coach panel discussion.
"Having the athlete's provide their perspective, in identifying the key attributes that they look for in a coach, and what the athletes would like to see included within the Academy sport programs, is an important part of not only gaining feedback on our sport programs, but in assisting the Academy design future programs that are athlete-centric and focused on their development" said Craig.
"It was really good to be asked to provide our feedback and asked what we think, to know that as athletes we are important and feel respected." said Academy Triathlete Zoe Bruce, who also commented that whilst it was the first time she had been a part of anything like the symposium, it was fun and provided a lot of good information.
With a wealth of information coming out of what the Academy hopes will be an Annual event, the Academy is now looking to its next step in its coach development and education pathway, through a Community Coaching Survey, and Community Coach Education program it plans to release in early October.
For more information on the South West Sydney Academy of Sport, head to www.swsas.org.au or email sport@swsas.org.au