Athlete education benefits all
Written on the 24 February 2015 by SWSAS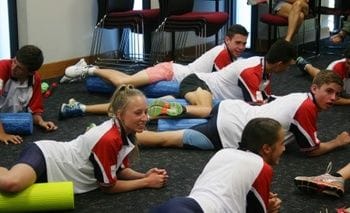 AS a continuing part of the South West Sydney Academy of Sport' sports education program, athletes are provided the skills and opportunity to develop physically; but an equally significant aspect of the Academy's program is what athletes are taught off the field, track or court. And, that includes how to manage all aspects of their lives to ensure they are the best athlete and person they can be.
The Academy's athletics and triathlon program athletes and participating parents experienced this first hand, during a self-injury management and massage session conducted at the South West Sydney Institute of TAFE, Macquarie Fields.
Athletes were exposed to the fact that daily maintenance to their bodies is just as important as the effort of physical progression on the track. The sometimes painful looks' on the faces of the athletes and parents undertaking the stretching and massage sessions were very entertaining but also a true indication on how important they saw this type of sports training.
Key components of the session were how to effectively use simple stretching aids. The home use of equipment such as foam rollers to support stretching techniques and thereby reduce muscle tension; was recommended for all athletes who were serious about their sporting development.
As most athlete parents play a large part in an athlete's sporting career, Academy education sessions of this type are designed to provide maximum parental involvement, reinforcing simple long-standing and new low cost body management techniques which can be used at home to support the development of their young charges.
At the conclusion of the session, TAFE presenters were inundated with relevant questions from athletes and parents alike, all trying to gain the maximum benefit of their education session experience.
Further similar sessions will be provided to other Academy sports, parents and coaching staff members over coming months.