Budding BMX stars take on Mt Panorama to prepare for major tour
Written on the 26 February 2019 by South West Voice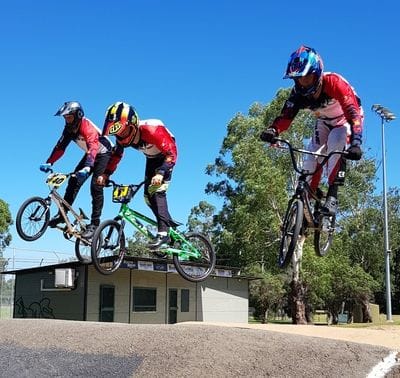 As BMX is predominantly an individual sport, riders often travel long distances to some amazing tracks to race.
But the opportunity to travel with a group of similar aged, high achieving riders and to train in a professional environment can be something else altogether.
Nine local Macarthur BMX Club riders are doing just that and reaping the benefits of the South West Sydney Academy of Sport camp based, SWSAS BMX development program.
These talented young riders will soon embark on a series of skill development camps, including an upcoming trip to Australia's premier international standard track at Brisbane's Sleeman complex.
In preparation for this tour, the program recently travelled to Bathurst, where nestled into the "back end'' of the famous Mt Panorama motor racing track is another top line facility designed specifically for BMX and featuring an 8-metre start hill and frightening large jumps.
As part of the Bathurst camp, the academy riders also experienced riding the Blue Mountain's BMX club's track at Lawson; and Penrith BMX club's awe-inspiring track at St Marys.
"The academy is so fortunate to have a BMX head coach as passionate and skilled as Kiel Dellow,'' says James Watson, academy sports program manager.
Dellow, who is in his third year as Academy coach, also happens to be BMX Australia's current coach of the year.
Mr Watson says the softly spoken Dellow uses very personal and engaging methods to get the best out of each rider.
"There are risks involved in what these riders do, both training and racing and his coaching skills negate a lot of these risks,'' says Mr Watson.
"It means the riders are calm, focussed and importantly, operating within their respective skill set.''
He says that academy graduate Cara Wilde also does a great job assisting Dellow with his young riders.
Wilde is a talented rider herself and has a passion for supporting the learning of others.
Dellow himself believes his charges are exceptionally enthusiastic athletes who need to be fit and strong in order to perform at their best.
"But skill development, learning process and order, as well as the correct mental approach and commitment, are front and centre here,'' Mr Dellow said.
Transport is a big logistical operation and getting the SWSAS BMX squad to its appointed destinations, requires a bus, an enclosed bike trailer and a support vehicle to make the trip.
"Our academy riders are so impressive with the way they maintain and care for their bikes and equipment,'' he said.
"Their racing bikes are finely engineered and often quite expensive.''
At the same time, the academy ensures that maintaining and safely transporting their equipment is all part of an athlete's program.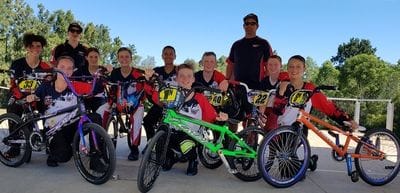 Group sessions, individual sessions, big jumps, big start hills, leadership development, nutritional learning, preparing meals, dining together, free time and fun are all integral components of the SWSAS BMX program.
"Watching these young riders execute their plans and take on these very daunting challenges was a great thrill for all involved,'' says Mr Watson.
"The whole program shared in the success of each rider and the comradery and friendship building experiences were really quite special to see.
"Several riders ticked off personal on track milestone goals on camp, many being involved with the Bathurst track, which has a well-known series of jumps known as The Berm which is not for the faint-hearted.''
For more information on how to be involved with the academy, contact James Watson on 4627 7622, james.watson@swsas.org.au or visit www.swsas.org.au