Camden Council Hosts Academy to recognise local athletes
Written on the 14 March 2019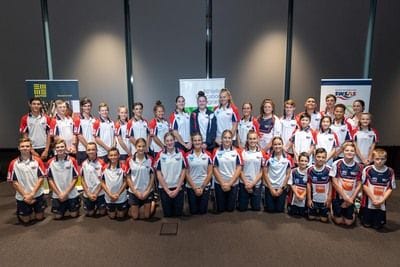 Camden Mayor Peter Sidgreaves stirring opening address to the near-capacity crowd of athletes, coaches and guests representing the South West Sydney Academy of Sport, set the tone for what was an evening of high recognition of achievement, of Camden athletes from across 9 varied sports.
The venue was a sea of red, white and blue as athletes were presented one-by-one to the audience when receiving the congratulations of Council.
But, the highlight of the evening was listening to the moving and stirring personal sports stories, of three of the Academy's very own athletes.
Each athlete expounded their individual account, of hard work, the challenges of time management, success, disappointment and numerous support systems.
Individual interviews with the Academy's Executive Director, Gerry Knights, delved deep into their intense training schedules. Asking about the reasons why they are so committed to training and self-improvement, their goals and the varied personal challenges they have faced, since becoming a talent identified Academy athlete.
Softballer, Harper Crawford spoke about her journey so far, from being injured in 2018, to her dream of making the NSW under 17's team, in 2019.
Erin Bloor represented the Academy Netball squad and shared her intensive training schedule with the NSW Premier League and her dream of one day playing for the Australian Diamonds.
BMX squad member Jayden Morris spoke highly of his coaches and support staff members and how beneficial 'high performance' training camps are.
Each athlete spoke about how they manage their time between schooling commitments and their rigorous training schedules. Dedicated to her studies Erin Bloor said, she is often 'studying in the car to and from training sessions, and whenever she gets a chance'.
Concluding the event, Netballer Charlotte Free spoke eloquently on behalf of all athletes and reiterated the words of Academy Chairperson Peter Campbell, by thanking Camden Council, for its valued and on-going support of the Academy and specifically its Camden athletes.
Macarthur Credit Union CEO David Cadden, enjoyed sitting amongst the athletes during proceedings. But was quick to expound his ongoing praise to all associated with the Academy. Including his organisation's association with the Academy, as the sponsor of its AFL Development program.
Should you be interested in becoming a South West Sydney Academy of Sport athlete and are between the ages of 13 and 20, contact the Academy on b: 4627 7622, m: 0407 415 847, or gerry.knights@swsas.org.au