Council recognises Academy's 'Best' local athletes
Written on the 20 March 2017 by SWSAS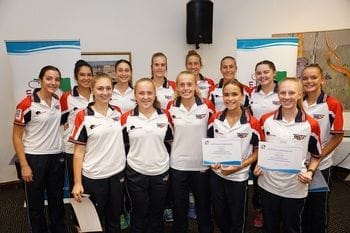 Camden Council's recent civic reception in honour of local South West Sydney Academy of Sport and its athlete scholarship holders and coaching staff members, provided the perfect opportunity for the 'best' of the local government area's outstanding junior athletes to be recognised.
The event was hosted by Deputy Mayor Cr. Theresa Fedeli and with the opportunity to wear 'two hats', one as an Academy Board member and the other as Deputy Mayor, Cr. Fedeli spoke straight from the heart, with her passion for her community, the Academy and sport in general coming through whole-heartedly.
Local State member and long-term ardent supporter of the Academy Mr. Chris Patterson strongly supported the positive words of the Deputy Mayor and included his own enthusiastic congratulations to all athletes and their supporting families in attendance.
The wide range of sports people and supporters present were highly attentive when listening to the amazing achievements of Camden's top junior athletes over the past 12 months. Stirring stories of success, adversity and comradeship abounded, with Council being congratulated for providing the opportunity for every athlete present to be individually recognised on the night and also having a photo opportunity with attending VIP's.

The Academy's Deputy Chairperson Mr Ross Kelly congratulated Camden Council as a foundation partner of the Academy and its long-term support of the Academy's growth and development.
Kelly was keen to reinforce the continued amazing development of the Academy numerically, and also in the number of sports (16) it now supports.
Its newest sport BMX was well represented in the room with its 11 highly talented riders and coaching staff members being formally welcomed and applauded for their squad and individual achievements over past months.
Countless encouraging messages were reinforced by all speakers on the evening, with many identifying the Academy's role in the positive development of its athletes 'on and off' the playing arena, as the cornerstone of its success.
Local BMX rider Jess McCormack, netballer Olivia Grabowski and hockey up and coming star Jamie Norman all provided a glimpse of their own personal journey's and support systems when interviewed by the Academy's executive director Gerry Knights, and each spoke individually on their given sport, their personal challenges and sporting dreams.
The highlight of the evening for most was an inspirational athlete response from softball squad member Angus Rochester who spoke passionately on the assistance provided to him on his 'athlete journey' by the Academy, and its highly dedicated softball coaching staff members.

Rochester's address identified that as an U13 Macarthur player, he watched the Academy softball squad train and that this moment ignited a burning ambition to personally become an Academy athlete.
He continued by saying how he saw the Academy as an important factor in his own personal development and junior athlete development locally.
Rochester also stated these opportunities would not be available to Academy athletes if it was not for the efforts and support of many, and concluded by expressing the gratitude of all in the room, to Council for its ongoing support of the Academy and all sport in Camden.
For more information regarding the Academy call (02) 4627 7622, or visit www.swsas.org.au