Dharawal First Nation Sporting Talent In Fine Display
Written on the 7 November 2023 by SWSAS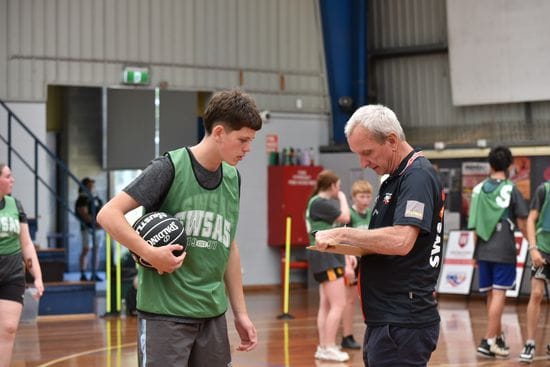 Conducted in the heart of the traditional land of the Dharawal people, the Minto Indoor Sports Centre in Campbelltown, recently came alive as over 100 talented young junior Indigenous athletes gathered for the highly anticipated South West Sydney Academy of Sport, U.A.A Indigenous Talent Identification Day, held in mid-October. With the day getting underway with a 'Welcome to Country', and a traditional indigenous smoking ceremony, before the athletes took to the courts and fields, for a day full of action.
The event, aimed at identifying and nurturing indigenous emerging sports talent within the region, and brought together aspiring athletes from across the South West Sydney region's high schools, where skill sessions in Basketball, Netball and Touch Football were conducted. Athletes were also provided the opportunity to undertake high-performance Fitness and sport science testing, that was led by the sport science department of Western Sydney University, all aimed at the outcome of unearthing the region's hidden athletic talent, and supporting local Indigenous athletes identify opportunities, within their own sporting pathways.
One of the standout moments of the event was the presence of Wests Tigers Indigenous athlete Brayden Mansfield (Pictured with Program Coordinator Brodee Mate). Mansfield's appearance was a coincidence, as it turned out that he himself had been a part of the Academy's 2016 Rugby League Program, where he honed his skills and developed into the successful athlete he is today. Mansfield's journey from an Academy participant to a professional athlete served as a timely reminder to all the young hopefuls at the event that dreams could be realised with hard work, passion and determination.
The event was an opportunity for these athletes to showcase their skills and determination in various sports. Whether it was the finesse of a netball pass, the agility on the basketball court, or the nimbleness in touch football, the athletes put their abilities to the test.
In hindsight the day was more than just a sporting event; it was indeed a community gathering. The diversity of, and the talent present in the region was celebrated, providing a platform for young Indigenous athletes to showcase their abilities and connect with mentors, coaches, and peers who share their passion.
The event represented the Academy's, and sponsor UAA's commitment to nurturing and supporting young Indigenous talent within the region, whilst also offering a glimpse into a promising future where these athletes can continue to develop their skills and, like Brayden Mansfield, can transition from aspiring athletes to accomplished professionals.
Indigenous recognition events like this mark an important milestone in the journey of young athletes, providing them with a roadmap to success, reminding them that their dreams are within reach, and with determination and hard work, they can achieve their goals in the world of sport.

Thirty-six athletes from across a range of sporting backgrounds, have since been invited to take part in the Indigenous Athlete program that will provide those athletes additional skill development, strength and conditioning education, wellbeing education and cultural support as an Indigenous "squad".
The athletes who will undertake the 2023-2024 Indigenous Athlete Identification Program are; Destiny Baker, Summer Bell, Koby Bell, Max Benson, William Browne, Max Brown-Tjakuapi, AJ Coles, Michael Dargin, Tyrone Donaovan, Mitchell Elphick, Logan Galway, Talan Garard, Harrison Gearside, Ruby Grant, Lachlan Hansen, Madeline Iddles, Riely Ingersole, Phoenix Kay, Kaitlin Kumar, Mathew Marshall, Lylah Murray, Bowen Murray, Xavier O'Niell, Jacob O'Niell, Josh O'Niell, Joseph Potts, Michael Psirakis, Lilly Reid, Zoey Saba, Tanisha Saba, Aidan Simpson, Isabella Stephens, Connor Taylor-Carpio, T-Jay Waterhouse, Ivy White and Shelby Whiting.
Indigenous Athlete Program Coordinator Brodee Mate, herself a proud Indigenous athlete, who is herself a former Academy athlete, was excited by the talent on display and stated that she is looking forward to seeing the athletes excel and be supported throughout the next step in their journey.

---END---