Exciting times ahead for new Academy intake
Written on the 6 December 2016 by SWSAS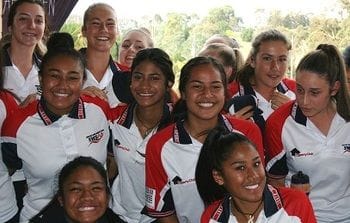 Western Sydney University's Campbelltown Campus came alive with athlete anticipation and a sea of smiling faces on a night to remember, for South West Sydney Academy of Sport's newest intake of athletes.
Academy executive director Gerry Knights opening address to the evenings near capacity audience of over 300 athletes' parents, families and friends, and highlighted his personal excitement for the Academy's athletes and their year ahead.
Knights welcomed athletes participating in all attending sports programs and commended their coaches and staff members for their ongoing outstanding commitment to their programs. He also commended all associated with the instigation and development of the Academy's new sports programs for 2017.
He continued by saying, these are exciting times for all associated with the Academy and recognised the importance of the Academy in its part, in the development of the greater Macarthur community; plus the support provided by our local Council's and the principal partners of the Academy, SOUTH32 Illawarra Coal and the Campbelltown Catholic Club.
The highlight of the evening was the willingness for athletes to participate in the discussion aspects of each education session, and the rousing support provided by the audience for Academy athletes willing to get up and challenge themselves, as part of the presentations.
Knights was quick to identify that this year's intake was younger overall in age than previous years and will have to work hard to maintain the outstanding competition results of recent years; but also stated the bonus would be, that many athletes would have the opportunity for an additional year with the Academy.
An annual compulsory topic of the evening was the Academy's 'drugs in sport' lecture and it was made very clear that it is each athletes personal responsibility to ensure that they do not take any illegal substances, be they performance enhancing under the direction of someone else, or socially, or accidentally.
Athletes were reminded that Academy athletes have been drug tested by ASADA in the past and it is expected that further testing, would occur in the future.
Amongst a wide range of good advice, the importance of ensuring that any legal body building supplements' purchased by athletes be made in Australia, rather than risk overseas supplements' purchased over the internet, where their contents may intentionally, or unintentionally be contaminated.
Knights concluded by commending all current junior Australian representatives in attendance and reminded all present that attending athletes would not have had the opportunity to be selected for the Academy, if it was not for the hard work of their local clubs and associations.
Due to the recent surge of interest in the Academy and its continued inclusion of additional sports, its athlete induction for Rugby League players was held separately.