In The Spotlight: BMX Road Trip
Written on the 2 May 2022 by SWSAS
Our BMX Squad hit the road to Wagga Wagga over the weekend of April 21-24. Here is the report, in the words of Program Manager Shelly Murphy.
Friday 22/04
It was an early rise for the BMX squad and parents - meeting at the all too famous Macarthur BMX track excited and roaring to go, we packed the trailer, donated by the Morris family, with our bikes and helmets and the awesome bus, who's use was donated by the Jonson family, was packed with our riding gear, hair gel and the likes
With coach Daniel as our trusty driver, were ready to get on the move for Wagga Wagga country!
Our first stop saw us at Goulburn Service Centre where we saw the 'Big Ram' and fuelled the bus up with a solid dose of diesel. Oh and our bodies with McDonalds with the athletes making great attempts to choose a healthy option for a big day of on and off bike training.
There was a discussion early on in the bus that its a right of passage that if you fall asleep one will get a photo taken of you, everyone said they wouldn't; but it wasn't long after a good feed that a few fell pray to the sleep gods!
9:05am While driving past Coolac, one of the athletes asked "how long left?" which was in no relation to the music the coaching team had put on for everyone to enjoy but also seemed well-timed.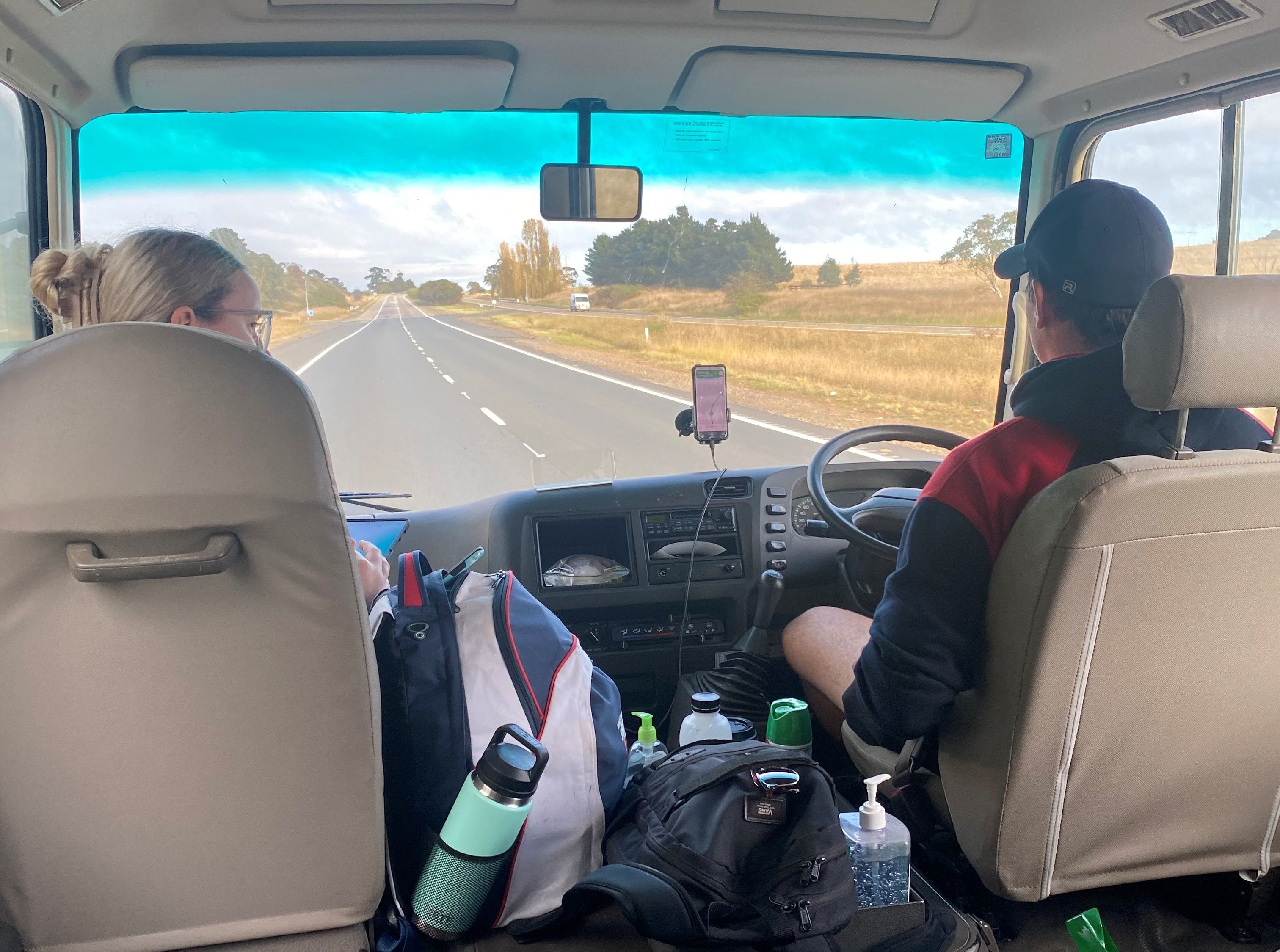 We arrived at Wagga Wagga and had a few athletes volunteer to get some essentials from Woolies with team manager Shelly.
It was great watching the athletes talk about cost vs value & quality, discuss what they wanted vs needed and all pitch in to scan items, pack and pass on items through the checkout. Some new skills were learnt in self-serve.
We packed the bus and headed straight to Wagga Wagga Multisport Cycling facility where we spent most of the day at the new BMX track. The athletes were pretty excited to get to be one of the first to use the gate and have so many on-lookers watching on as they showcased their skills.
The track session was followed by a HOT ? yoga session at Simp-lee Yoga & Massage Centre, which athletes quickly learned it wasnt the hot that they were hoping for! There were many groans during the stretches - some found muscles that they didnt know they had, and one athlete was so relaxed at one point that they feel asleep!
Manager Shelly rang around with coach Dan to source a lock for the trailer and shop for dinner - they arrived back just in time to catch the raw reactions, exhausted faces and wet gyms shirts in a short vlog - it was very evident they got a lot from the session.
We then drank a litre of water as part of the recovery and headed to our camp quarters staying at Wagga RSL motel.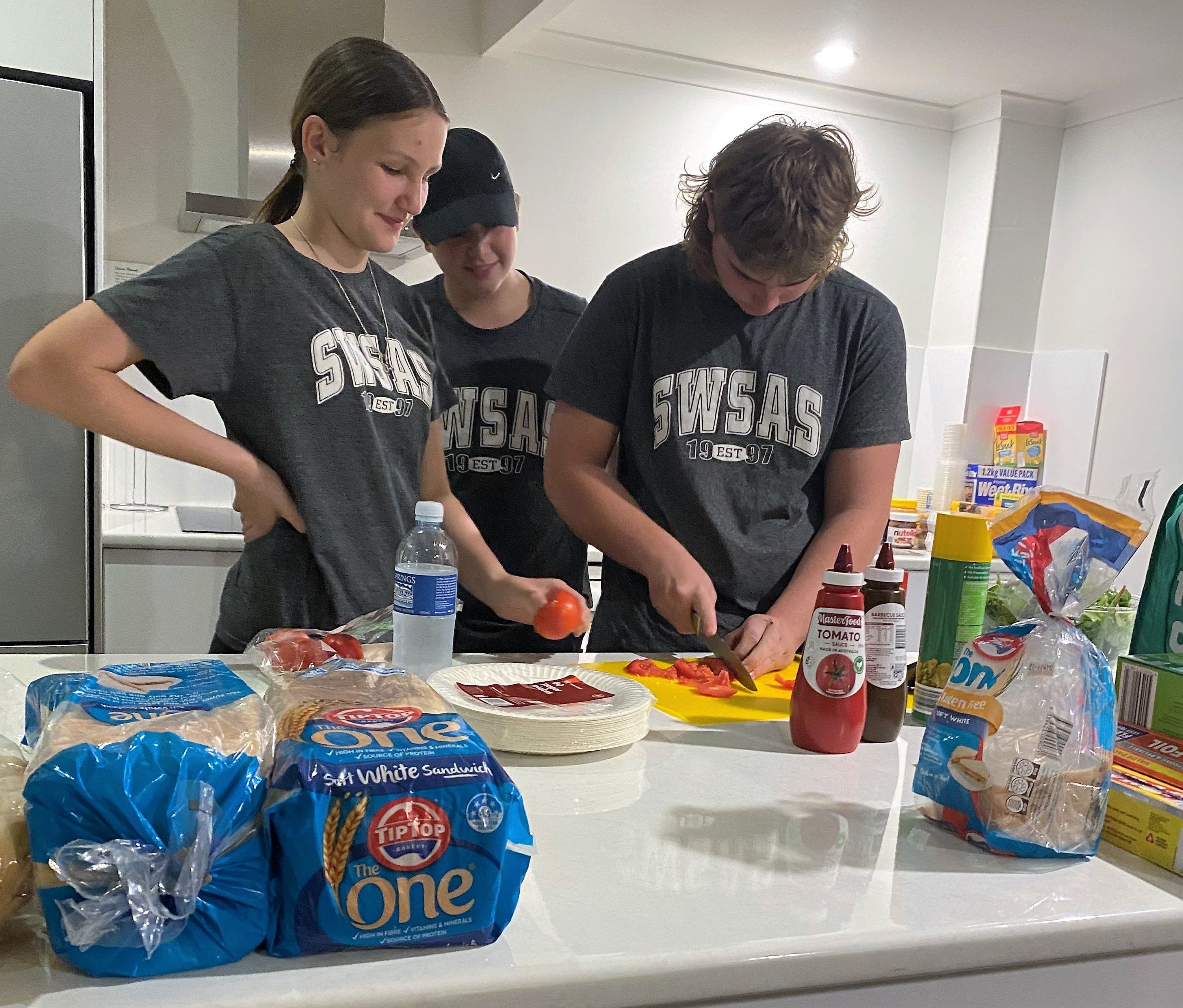 The athletes learned of their bunking-quarter buddies and headed off for showers snacks and a bit of down time while the management team fine-tuned some finer details for the remainder of the trip and split athletes into groups of 3 that would be allocated to different duties each day mainly consisting of clean up, cooking, and prep - shower rosters were also worked into this to save time.
Dinner consisted of sausage sandwiches, onions, sauces, kebab sticks and salad all prepared by the athletes. After dinner and cleanup everyone was pretty beat so there was a small chill out session in our apartment lounge watching all things BMX and reviewing their day. When coach Cara fell asleep on the lounge we all decided it was time to head back to our rooms and hit the hay. Athletes were to have a 7am wake up call and were advised to have race gear packed, getting ready for brekky and meet over at the apartment by 7:30am so we could get an early start at the track.
Saturday 23/04
The accommodation at the Wagga RSL Hotel was great and very kind to us with most of us getting sound asleep and staying that way despite a 3:30am wake up call from a fire alarm that decided to go off in the middle of the night - thankfully all guests were fine and it was a false alarm set off by one of the other rooms to which most of the athletes didn't even wake too - I wish I could deep sleep like that!
Breakfast was great on both days with lots of great choices to choose from. Eggs on toast with side choices, to muesli, to eggs Benedict to a good old brekky burger ?!
We decided to head back to Wagga BMX facility after we were unable to secure some time at Border BMX club with the track unfortunately not being in rideable condition (next time for sure though)
Coach Cara and Coach Dan split the riders into two groups. Coach Dan focused on gates to 2 straight whilst coach Cara looked after 3rd and fourth straight. We kept our energy up with some nice cold cut watermelon and Powerade and other snacks along the way.
We all then regrouped to get some full laps of the track from the 5 metre hill with plenty of on-lookers from the public - the athletes were putting on a great show with many locals wanting to learn their skills and get a cool BMX bike.
We headed back to the motel for a change of clothes, and had wraps + sandwiches prepared for us by the lovely crew at the Wagga RSL where some fruit and snacks were also enjoyed.
We then headed out for an afternoon of sprint sessions at a local park that conveniently "unbeknownst" to the coaches, had a community jump track that the athletes just couldn't resist having a role around after assistant coach Jye put them through their paces during sprint sessions.
The group decided to do a spaghetti bolognaise cookup with garlic bread for dinner. We all did a visit to Woolies where athletes were grouped in pairs of two & allocated items to find by coach Cara. They had to each work out their quantities and value for money vs health rating with our communication being through the SWSAS communication app if we needed to converse or update each other. A few items were sent back to refine their choice via that same athlete.
We once again headed back to the motel and decided that instead of heading to the pools, rather go to our motel pool for a hot/cold recovery session where they tested their will power to resist getting out so quickly, played some games staying active in the water, followed by a hot shower in their rooms.
The cooking group for tonight cooked up a storm preparing 'spag bol' along with a GF version for one of our athletes. It was a great learning experience for all learning about cross-contaminations and the do's & dont's of food prep. Card games were a big hit during cooking and cleaning - there were a lot of laughs and finger pointing.
After our bellies were filled with pasta & clean up was done, all the athletes were put into teams of 3 to battle it out in a BMX trivia night filled with new age and historic BMX questions as well as a few trick questions that in the end tricked everyone. Jayden, Miller & Ireland took the win walking away with a small prize each and a smile on their face!
The athletes and SWSAS management team all enjoyed a small amount of ice-cream and milo for dessert as the coaches as a reward for their good behaviour, team work and effort put in over the last two days.
7:30am wake up call for tomorrow…
Night-night!
Sunday 24/04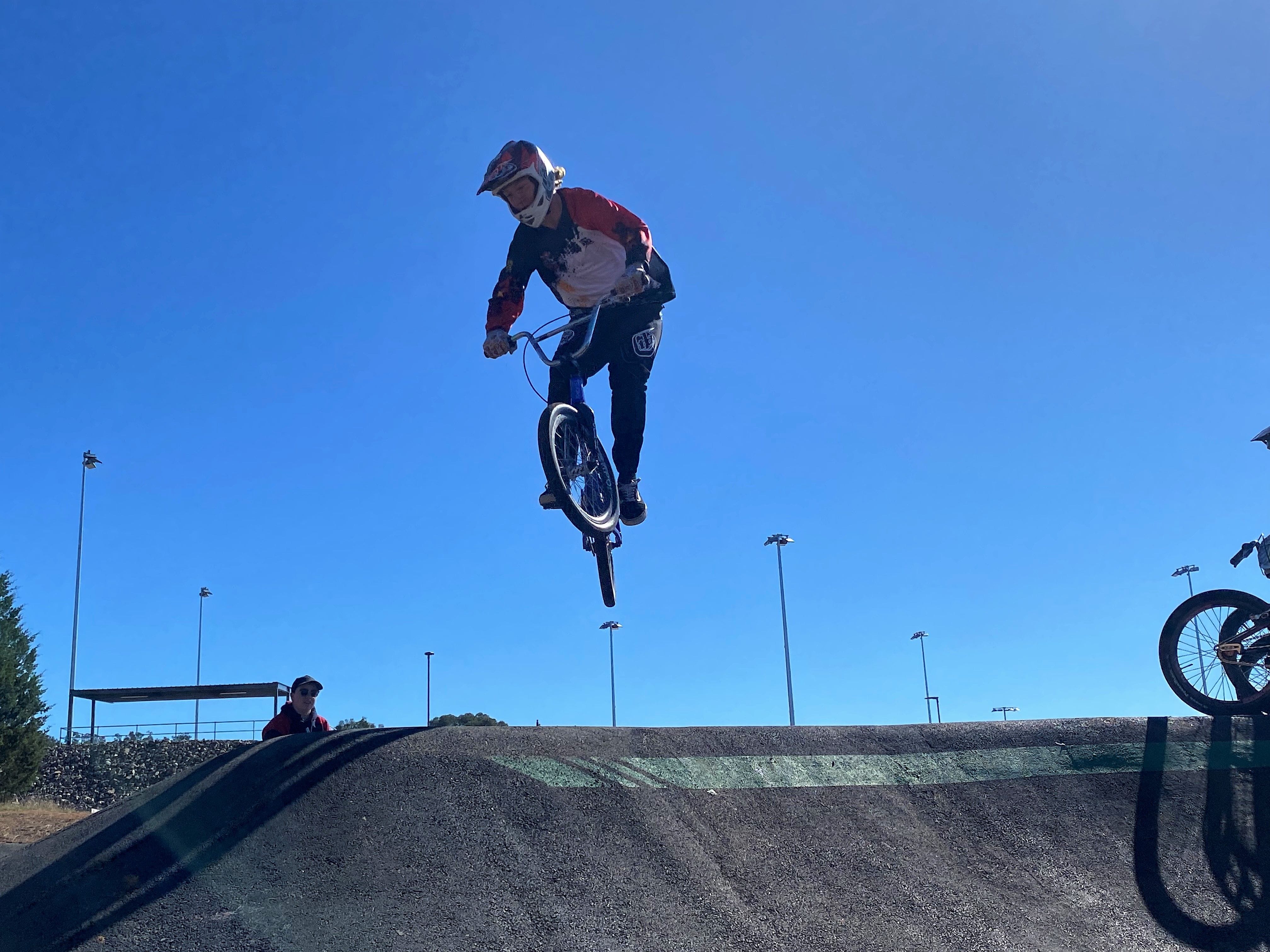 It was our last day on camp and time to pack up, athletes were all responsible for re-packing there bags organising their rooms and getting back to meet at the apartment headquarters by 7:45am to pack the bus and trailer.
We had breakfast, handed the keys back to the motel and thanked them for their hospitality while they thanked us for our good behaviour.
We were then on our way back to the Wagga Wagga Multisport Cycling facility to try out the other cycling tracks on offer at this great new facility where most riders were on flat pedals.
They did both the jump & the pump track then went back over to the BMX track to see what they could jump on flats - some tried to 'manual' the whole 3rd straight.
Coach Cara got the athletes all tricked up playing a game of traffic lights at the bike education area. Riders had to stop at traffic lights when red without putting their foot down and only go once green, give way to the public, stop at crossings with other complexities. It was a great lil challenge for the riders.
Next Jye took everyone over to the centre of the velodrome for a few games of 'footdown'. This is a game that is quite often done in the fun part of a BMX training session at home and is a game of skill where you need to be the last person left on your bike without putting your foot down, rolling around the marked out area, bunny-hoping if necessary to avoid other riders - its a game if balance, skill, luck and a bit of predicting other athletes moves to benefit your game.
We then packed the trailer one last time, got changed and found a shady place to park up and enjoy our pre-packed wraps + sandwiches, water, bananas, grapes and cookies then headed home to Macarthur BMX track to meet up with our families.
All the athletes were very well behaved, and we were blessed with great weather the whole trip too which made for a very happy SWSAS management team!.
On behalf of the athletes, I'd like to thank Coach Cara, Coach Dan & assistant coach Jye for their organisation and time spent on this trip with special mention to Dan for doubling up as the bus driver!.
A BIG thank you as always to the crew behind the scenes at South West Sydney Academy of Sports for everything you do and to all our sponsors.
A big thanks to the Jonson family for the lend of the bus, and to the Morris family for the bike trailer.
And to the families for raising such wonderful young athletes.
Looking forward to the next one!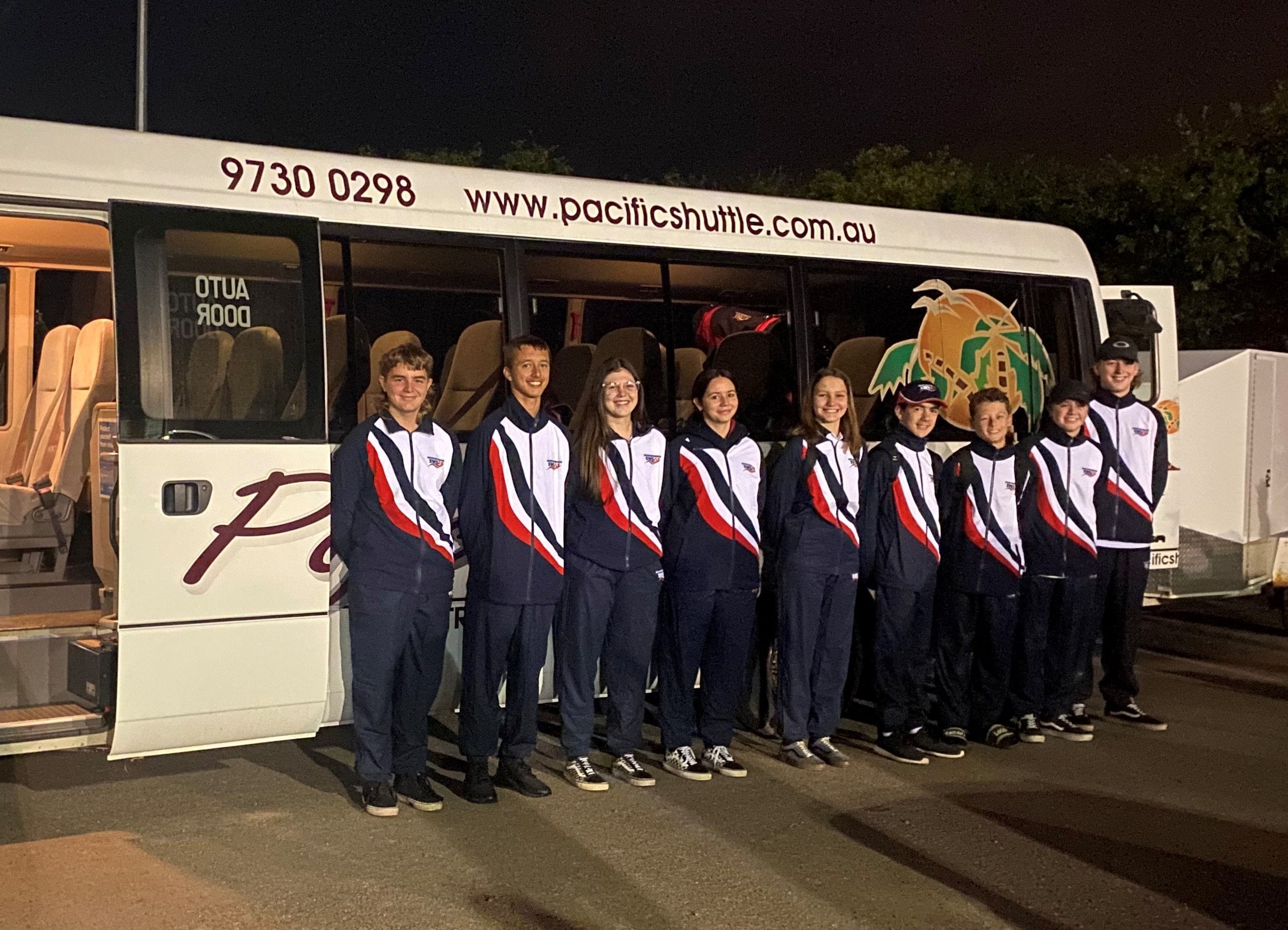 Shelley Murphy - SWSAS BMX Manager
---END---
If you are a current or former athlete of the Academy, and have had success at a recent championship or event, we would love to hear your story, in your own words.
Put yourself and your achievements In The Spotlight. Email stories and photos to Media @ SWSAS