In the Spotlight: Volunteering Leads To World Stage
Written on the 21 September 2022 by SWSAS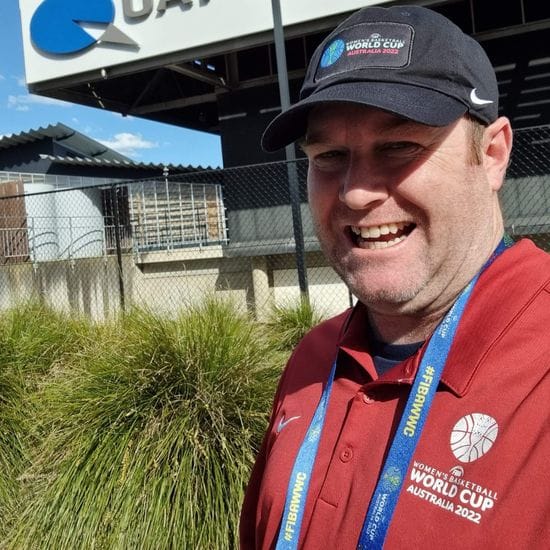 Academy Basketball Squad Manager Mick Hendricks will spend his 'spare time' during the school holidays volunteering at the FIBA Women's Basketball World Cup in Sydney.
Sport is often referred to as the great equaliser, where all who participate enter the field on a "somewhat" equal playing field.
Yet, off the field, it could be said that an even greater equaliser in sport, and one that carries a great personal reward, is in those who choose to volunteer their time to help make it all happen.
Volunteering is where you get to rub shoulders with not only seasoned sport administrators, commentators, and media personalities, but CEO's, business owners, mums, dads and even grandparents; all in support of the same common goal. Oh, and there is the added bonus, that either during or often after your volunteer shift, you may get to catch a close-up glimpse of some really talented athletes and coaches in action in their chosen field.
Yet opportunities able to volunteer in your chosen sport at a world-class event, in your home town can seem few and far between.
It was therefore a no-brainer for our Academy Basketball Manager Mick Hendricks, who has put his hand up to volunteer at the FIBA Women's Basketball World Cup being held in Sydney from tomorrow, 22 September until 1 October in at Olympic Park. Hendricks will get the opportunity to see the world's best female basketball athletes up close and personal, as he undertakes a volunteer role within the Training Venue throughout the ten-day tournament.
Hendricks will also be able to keep an eye on five young female athletes from the Academy's Sharp Extensive I.T Basketball program, who will represent the Wollondilly Razorbacks Basketball Association as one of the winning entries in the Hoyts Little Champions. The girls will get the opportunity to stand alongside the competing teams, in front of an anticipated audience of 18,000 fans to form an honour guard at the tournaments Semi Final games inside the Sydney Superdome on Friday 30 September.
Joining Hendricks for the ten-day tournament in the volunteer department will be Academy Sport Operations Manager Stephen Craig, who will be positioned in the depths of the Sydney Superdome, as a volunteer within the Media Operations team. Whilst Craig's chances of actually watching a game of basketball are somewhat reduced, the opportunity to step outside of his comfort zone and experience the atmosphere and working environment of a world cup left him in no doubt that the opportunity was too good to pass up.
"Our CEO Gerry Knights played a very active role in the Sydney 2000 Olympics and its volunteering scene. He speaks so highly of the memories of that event and the thrill of volunteering, that when this opportunity came up, it was definitely one to tick off the bucket list" said Craig, commenting that he is definitely looking forward to learning from the International media team that will be present during the tournament.
"A very wise coach recently told me that the moment you stop wanting to learn, is the moment you should give up". "Being able to volunteer time to give back to the sport you are passionate about, whilst picking up new skills, and sharing ideas with people with so much industry experience is invaluable", said Craig.

Once the World Cup is finished, Hendricks, who also volunteers his time as President of the Wollondilly Basketball Association, and Craig plan to use their new found skills to not only benefit the Academy, but add further value as they head into the upcoming NBL season as members of the Illawarra Hawks 'Wrecking Crew'.
Described by Hendricks as the 'work you do when you're not working', the 'Wrecking Crew' swing into action after the game is done. "We are often one of the first in, and once the game is done, help pack down the stadium, remove decals, pretty much whatever the team and club need doing." Said Hendricks, who commented that it definitely does take a special type of passion and love for the game, and a fair bit of time management juggling both full time work and family commitments as well.
"So often we are getting kicked out of the stadium long after midnight by security, when the game is long finished and fans and even the athletes have gone home; you just don't want to leave because being a part of that team environment is so special. You have to love doing it." said Hendricks.
A passion that is often a unique part of being a volunteer that both hope will see continued opportunities to give back to sport for many years to come.
"The Brisbane 2032 Olympic and Paralympic Games is going to need as many, if not more volunteers than Sydney 2000."said Craig, "And just like the athletes, volunteers are now starting to think about their own 'ten-year training plan' to be ready to help repeat the long talked about success of the Australian spirit at Sydney 2000".
-----
If you would like to volunteer within the Academy, positions are currently available for coaches and squad managers across a range of sports.
Don't hesitate to contact the Academy today.
-----
If you are a current or former athlete of the Academy, and have had success at a recent championship or event, we would love to hear your story, in your own words.
Put yourself and your achievements In The Spotlight. Email stories and photos to Media @ SWSAS