Junior triathlon in Macarthur
Written on the 13 November 2014 by SWSAS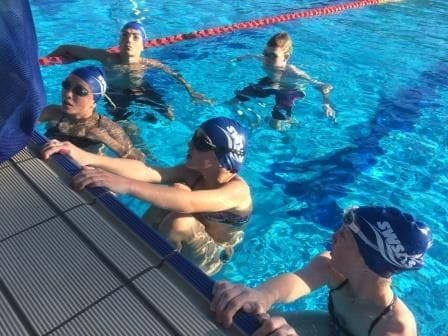 The Triathlon NSW Junior Super Sprint Weekend will be hosted in Macarthur by the Macarthur Triathlon Club 22-23 November 2014. The weekend event will see the South West Sydney Academy of Sport Triathlon squad compete for the first time and offers a unique opportunity for the best 13-19 year old triathletes in NSW and ACT to race each other, in a short distance and draft legal racing format.
Following the success of last year's inaugural Junior Super Sprint Weekend the decision to hold the 2014 event at Macarthur follows on from the fantastic effort the region is making towards junior development in the sport, in addition to using one of the most ideal venues in NSW.
Triathlon NSW General Manager Phil Dally commented saying, the recent addition of a triathlon program to the South West Sydney Academy of Sport (SWSAS) and the passion of its head coach Guy Creber has been reflected through the significant growth of young triathlon talent in the region. We have certainly identified the South West Sydney region as an area with great potential currently, and in the future and we're excited to have the event in such an ideal venue for triathlon.
Saturday's schedule will commence with a cycle clinic, followed by running and swimming time trials and lastly an aquathlon. Sunday morning will include a short distance triathlon with a lunch and presentation to follow. Depending on age, athletes will compete in either the ITU Youth, or ITU Junior category and will accumulate points for each performance with the overall winners awarded on Sunday afternoon.
The event will be based at the Macquarie Fields Leisure Centre and will utilise the outdoor 50m pool, attached 1km bike loop and associated pedestrian paths, plus the neighbouring athletics oval.
Triathlon Australia National Talent Pathway Manager Keiran Barry also commented saying; this weekend is about introducing juniors to elite style racing in a very controlled and safe environment, with the focus being about learning as much as possible and improving athlete racing skills.
The weekend is a great initiative by Triathlon NSW and has been created at the request of coaches seeking more draft legal racing opportunities for their juniors.
SWSAS Triathlon head coach Creber proudly stated that this will be the first official hit out for the Academy squad and everyone associated with the Academy and local club were very excited that it is in our own area.To enter contact Genevieve Dunn 02 8488 6250 or visit info@trinsw.org.au.
For information on the South West Sydney Academy of Sport Triathlon Program contact 4627 7622 or gerry.knights@swsas.org.au.