Local Talent Shines at State Titles
Written on the 13 October 2017 by SWSAS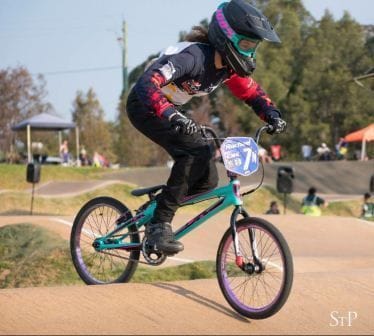 The humps and hollows of the freshly groomed dirt at Macarthur BMX produced a dazzling venue for BMX NSW's flagship event. 'State Titles' - the name says it all! The dedicated servants of the sport from the Macarthur Pirates BMX Club gave everything to ensure the event was a big success. Track preparation is a key
Two weeks of perfect 'dirt working' weather ensured a pristine track condition. Although some solid rain is desperately needed, this section of our sporting community was truly thankful it stayed dry. Strong winds on Saturday made for challenging conditions. Bikes 'drifting' on the breeze is less than ideal to say the least. Sunday was nothing short of perfect as the finals took place.
Our region celebrated seven State Champions across the age divisions which is a remarkable result. No doubt the 'home ground' advantage played its roll in this success.
The racing was non-stop, the intensity, 'off the charts'. It only takes about forty seconds for each race to complete but such is the schedule of this monster event, often there are still riders on the track when the next race begins. Two days of continual racing realises a State Champion in every age division from under eight 'sprockets' through to the fifty plus veterans class. The racing is exhilarating and the speed demons of the superclass and pro class are amazing to watch. Those that watched the weekends racing witnessed the skills of, the Illawarra's, Sakakibara siblings. Both Saya and her brother Kai raced and won State Titles. It is likely these youngsters will reach the highest levels of the sport. Future Olympic selection is a strong possibility.
The South West Sydney Academy of Sport (SWSAS) is in the process of launching its second season of BMX development. During State Titles SWSAS was strongly represented. The program Head Coach Kiel Dellow was named BMX NSW's 'Coach of the Year'. Kiel is an outstanding mentor and it was truly appropriate that his talents and dedication were recognised. Speaking with Kiel, he wasn't so keen to talk about his own achievements, but when asked about the performances of the SWSAS athletes Kiel's pride could not be contained. "I am very proud of all the crew, some exceeded the results that we were aiming for and others came up a bit short, but there is no denying that the commitment was 100%. It's super competitive, and to make a state final is a 'big deal'. This group of riders has much talent and we will continue to thrive" said Dellow.
SWSAS riders Patrick Roberts, Cara Wilde, Jye Furner, Jessica McCormack and Rachael Long all made a State Final with Jessica and Cara both securing a third place in their respective divisions. The Academy program focuses on enjoyment of sport. These youngsters love to ride bikes; it's as much a lifestyle as it is a sport. Harnessing this passion and developing skills in this very demanding sport, whilst ensuring the smiles stay big is the mission of this program.
For information regarding Academy programs visit www.swsas.org.au or call 4627 7622