Regional Academy fosters exceptional talent
Written on the 7 December 2016 by SWSAS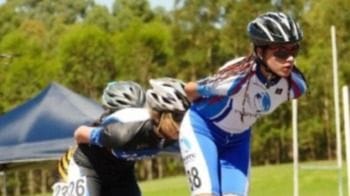 TWO young rising stars have recently been inducted into the South West Sydney Academy of Sport family, by joining the Academy's growing Lone Star athlete program.
The first is young inline speed skater Jaide Gayle-Weiling, who has defied all odds to become our State and Australia's National Champion.
Jaide was diagnosed with scoliosis in March 2014 and was told a 12 month break from skating would be required after her surgery. However Jaide had other plans as she was bursting with enthusiasm to get back out on the circuit.
Within months of surgery Jaide was back on track pursuing her passion. She began training competitively in July 2015, and later that year she was crowned State Champion in 6 events; and in 2016 she did it again holding onto her 6 titles for another year.
But her biggest career highlight was attending the 2016 National Inline Championships in January and taking home a Gold Medal in three events, Silver in two and Bronze in two.
The second exceptional athlete to join the Academy family is clay shooter Lachlan McLean from Campbelltown who this year was selected to represent NSW at the 2017 National ISSF Championship in Perth.
Lachlan is a rare talent and has ambitions to go all the way in his chosen sport, with Olympic Gold his ultimate aim.
Current Academy Lone Star athlete Renee Fassolis has had some exceptional results in the last few months placing first in discus and javelin and second in shot put at a Regional level despite carrying an injury to her elbow. Renee then went on to place third in discus at the NSW All Schools carnival. These achievements add to Renee's growing sporting resume.
The Academy Lone Star program is open to male and female athletes aged between 14 and 19 years who live, go to school or play their given sport in the Academy region.
To be selected athletes maybe involved in an individual, or team sport, or in a sport category not currently supported by the Academy. Athletes must have been selected within their chosen sport at a NSW School's, NSW, or Australian national level, or have an appropriate NSW, or National ranking.
Athletes are eligible for a 'Lone Star' scholarship for a maximum period of 4 years, and must reapply annually, stating their current sporting status.
The aim of the program is to provide athletes with the opportunity and access skill development and sports education sessions including injury prevention, sports nutrition, drugs in sport and many more.