SWSAS BMX Riders Back on Track in Hunter NSW
Written on the 17 July 2020 by SWSAS
SWSAS BMX Athletes Mackenzie Hadley (close) and Destiny Brien (far), practicing gate starts and race simulations at Maitland BMX Track.
Written by Daniel Currinckx - Featured in 'The District Reporter'
A window of opportunity to get back into track training opened up with community sport recommencing after COVID-19 restrictions were lifted on July 1. And the South West Sydney Academy of Sport (SWSAS) BMX Squad took full advantage of this last weekend.
SWSAS BMX athletes reviled in the chance to 'tear it up' in the Hunter Region of NSW, with fellow regional Academy athletes from the Hunter Academy of Sport. Both boys from Lake Macquarie BMX Club representing the Hunter Academy of Sport said, "they had a great day training with other riders who have similar skills, ability and direction, as they do."
After a long period of 'rest' this training session was a big wake up call for many riders and revealed that their current level of both muscle and cardiovascular endurance to be far shy of previous benchmarks, preceding isolation.
"It was fun to ride and be with the rest of the squad, but it also made me realize how unfit I am! I hurt today!" said Mackenzie Hadley.
"Going back to training after COVID-19 and injury, has been challenging for me as my fitness level has dropped. However, it is awesome that we are back training again," said an excited Clay Jonson.
With many unexpected challenges continuing to arise throughout the 2019/2020 sports programs, BMX coaches Cara Wilde, Fred Furner and manager Anne-Marie Moubarak have been working hard with SWSAS and the Macarthur BMX Club to keep athletes engaged and progressing forward with their development.
When track sessions were unable to occur, online zoom sessions have taken place. And developing athlete education on various topics including social media, nutrition, and sports psychology have proven paramount, in helping athletes manage what has been a year like no other.
Anne-Marie Moubarak said, "It was great to see the squad back training together. They all had different experiences during COVID-19. Some had some down time and others continued training, and that definitely came through in this training session. I feel all the athletes have grown from this experience and will come out the other end of this, with a greater appreciation of their training regimes."
In recent years, the squad has enjoyed its trip to the Hunter, and being welcomed by both the Maitland BMX Club and Lake Macquarie BMX Club. The trip provides great diversity and experience for the riders. SWSAS looks forward to continuing this trend for many years to come, as advances in technology and communication have grown to allow all Regional Academies to become closer and more unified, than ever before.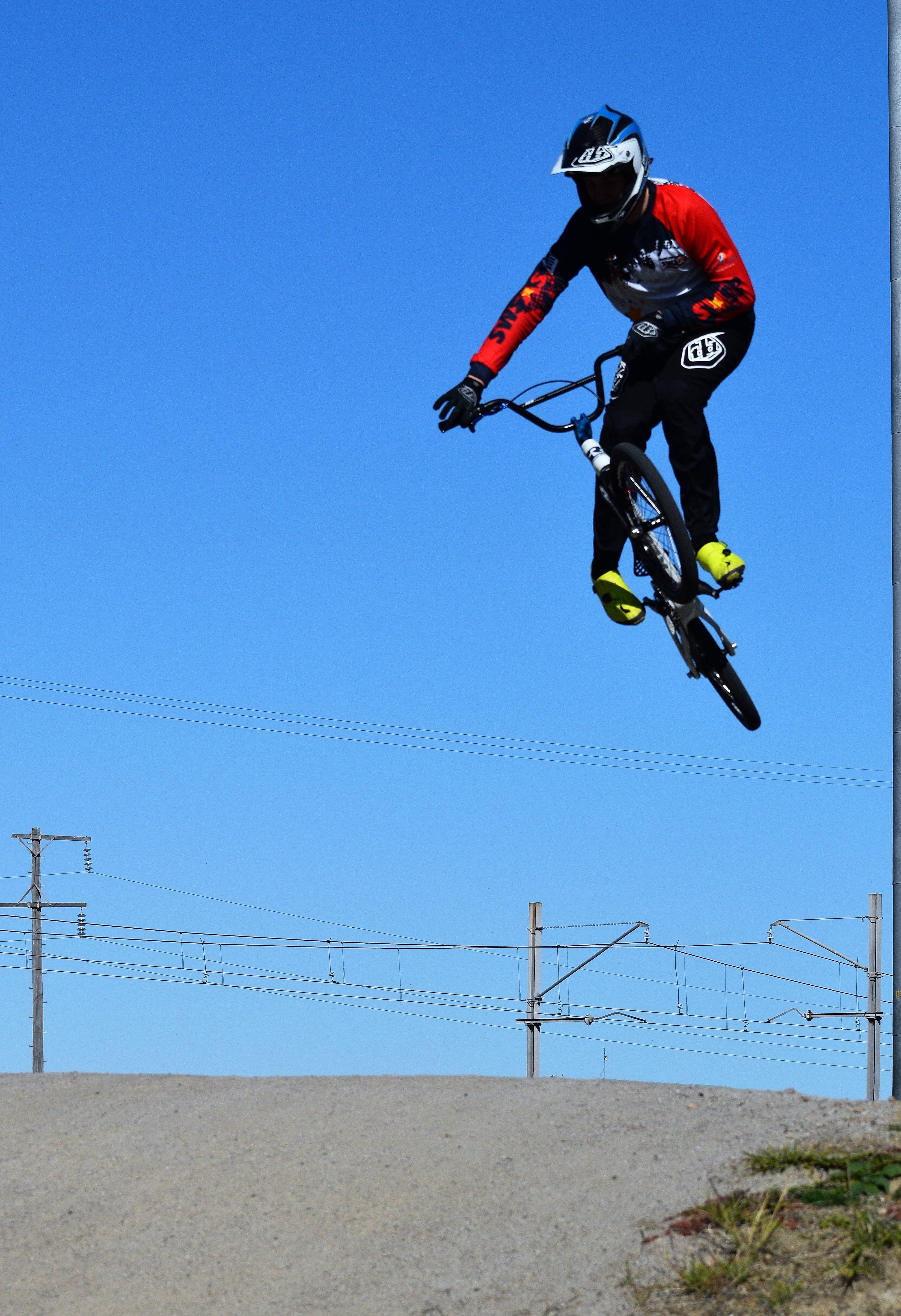 SWSAS BMX Athlete Jye Furner in the air at Maitland BMX Track.