Tahmoor Pump Track Go Go Go!
Written on the 13 October 2017 by SWSAS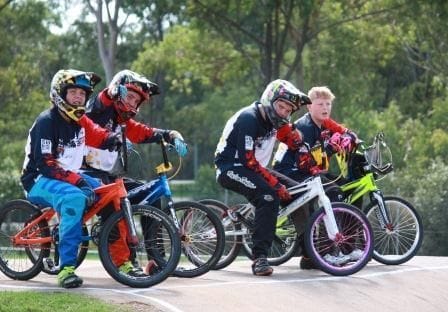 Tahmoor's iconic 'DNA Freestyle BMX Park' is set to receive an exciting facelift thanks to a joint venture involving Wollondilly Shire Council and the NSW Government's, Community Building Partnership Program.
This collaboration has enlisted the support of the Born To Ride Freestyle Association inc. This group brings essential knowledge and skills to the project. Mick Ross and Loryn Wessel who head up Born to Ride Freestyle in this region are renowned 'experts in dirt'!
With specially selected clay soils already on site and an opening date of September 30, 2017 nominated, 'it's all happening'.
The South West Sydney Academy of Sport (SWSAS), who are currently preparing for their second season of BMX are excited about the track. I spoke with Head Coach - Kiel Dellow. "BMX requires much diversity of skill. Another community facility for our squad to utilise is a good thing. Members of our squad race on tracks all over the country. Training in a variety of locations is essential! We will be eager to 'rip' into this" said Dellow.
This redevelopment will feature a full loop Pump Track that utilises the existing beginners straight. The adjoining 'table top' straight is going to be enhanced giving riders an achievable progression as skills and confidence grow. The new track will make this Park the complete package, catering for every level of rider. "Kiddies with training wheels, mums and dads, recreational riders and serious BMX racers will all have a place to have some fun or refine their skills. The daredevils of big jump freestyle will still have a place to ride, the big mounds of the pro straights will stay" said, an obviously excited Loryn Wessel from Born to Ride.
BMX, as a very exciting Olympic sport is experiencing strong growth. The nearby Macarthur BMX club (Camden) is one of NSW's biggest clubs and this revitalised facility will be a boost for club members that live in Picton and surrounding towns. It is envisaged that the social benefits that are attributed to the provision of facilities such as these will be strengthened.
"Riding a bike is just a beautiful thing; we have all done it at some stage! Learning to ride is an essential part of the early years. Our motivation is 'very grassroots'. A Bike Park that caters for the whole family will ensure more people; more often, will enjoy riding". Said, Ms Wessel.
For more information about the Academy go to www.swsas.org.au or call 4627 7622