Wet Weather Golf Challenge
Written on the 3 June 2019 by SWSAS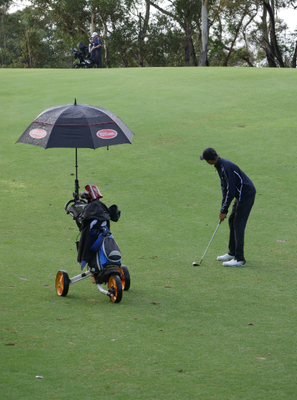 The biggest Junior Masters field made history in Bathurst over the weekend with 224 junior golfers gathering from across the state, taking part in the 2019 Peter O'Malley Junior Masters.
Four of the South West Sydney's Academy of Sport best golfers joined the tournament, Brandon Vella, Rhys Vella, Ryan Connors and Adam Derbas. The weather was miserable heading up to
Bathurst on the Friday and during the practice rounds, the siren sounded stopping all play due to thunder and lightning.
This didn't affect the boy's performance though, they still played their best game even with poor weather conditions over the weekend competition.
Saturday started off at the crack of dawn and with the weather hindering B. Vella's first half of the day, Vella's results improved as the afternoon went forward. Playing the back, Vella ended the day with a birdie on the 2nd, following with 3 bogeys on 5, 6 and 7 leaving Brandon with a +2 finishing the round at a +9.
While Brandon sayings 'the conditions made playing hard. I wasn't impressed with my first-round results and I was more determined to increase my performance the next day'.
All the boys were well supportive throughout the weekend, and despite not so favourable results, they represented the Academy with pride.
After the Sunday warm up, Vella composed himself and was hitting fairways and greens while making some great putts along the way. He finished his last hole under par giving him a +2 round score and a final tournament score of +11.
Brandon Vella said that 'all of the boys played really well for the weather conditions that they were fronted with ''Rhys played well overall, scoring +21, Derbas finished with a +17 and Connors scored +15. Each of the boys should be proud of how they played in the Peter O'Malley Junior Masters'.
With the fantastic weather leading up to the tournament, the course at Bathurst Golf Club was green and lush. Brandon finished in the top 20 of the Peter O'Malley Junior Masters tournament and says that he is proud of how he played and knows how he can improve for next time.
To find out more information about the Academy visit our website, www.swsas.org.au.